Situation Update | April 2023
Somalia: Counter-Insurgency Operation Gains Regional Support in Phase Two as al-Shabaab Attacks and Political Differences Persist
Somalia at a Glance: 18 March-14 April 2023
VITAL TRENDS
ACLED records more than 180 political violence events and over 420 reported fatalities from 18 March to 14 April 2023. Most political violence centered in Banadir region, where al-Shabaab launched attacks targeting Somali security forces and civilians. 

Middle Shabelle region had the highest number of reported fatalities, with over 120 recorded during the reporting period. Sool region followed, with more than 80 reported fatalities. Violence involving al-Shabaab was linked to over 74% of total fatalities. Clashes between Sool, Sanaag, and Cayn (SSC) militia and Somaliland security forces around Laascaanood town resulted in most of the remaining fatalities.

The most common event type was battles, with over 100 events, followed by explosions/remote violence, with nearly 60 events. Over 46% of explosion/remote violence events occurred in Banadir region, a nearly 70% increase compared to the previous four weeks.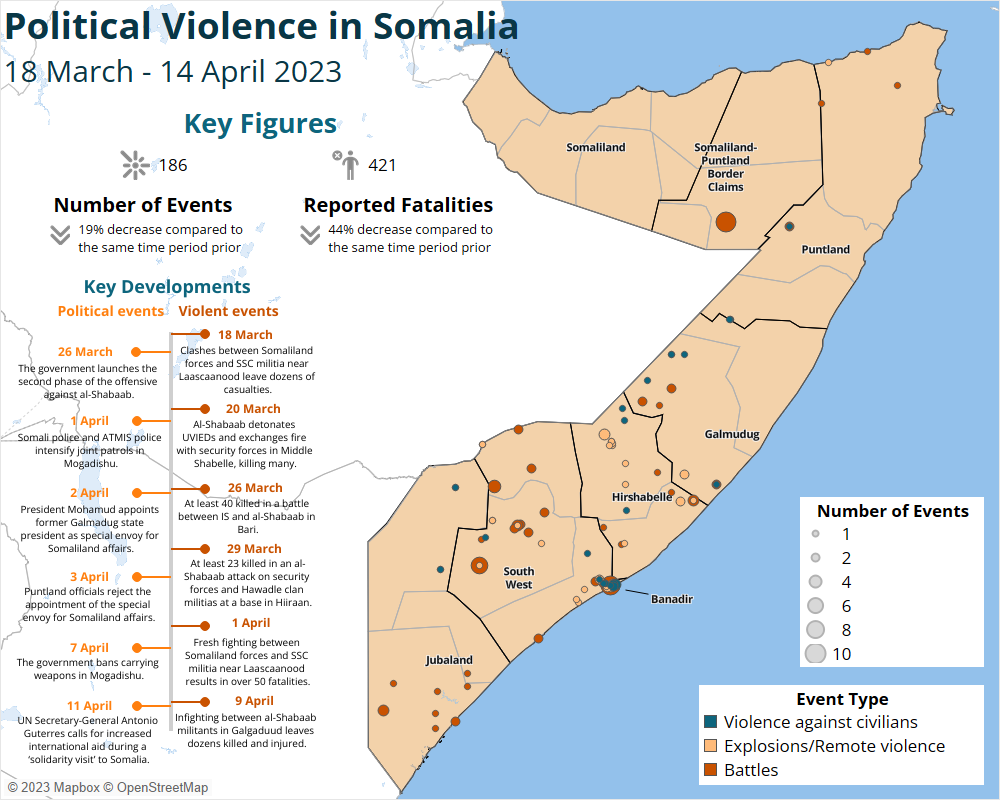 Counter-Insurgency Operation Gains Regional Support in Phase Two as al-Shabaab Attacks and Political Differences Persist
President Hassan Sheikh Mohamud announced the second phase of the military offensive against al-Shabaab at the end of March.1Hiiraan Online, 'Somali President launches second phase of anti-Al-Shabab operations,' 28 March 2023 The new phase reportedly aims to flush out al-Shabaab from the remaining parts of the country under its control, following the first phase that began in August 2022. While the operation initially focused on central Somalia, starting in Hirshabelle and then expanding to Galmudug state, the second phase aims to expand to southern regions – Southwest and Jubaland states. 
In the first phase, the government sought support from clan militias from the Hawiye clan, and regained substantial territory from al-Shabaab. Subsequently, clan militias have played a vital role in the government-led operation. Since August 2022, these groups have been involved in more than 155 political violence events against al-Shabaab. Additionally, they have supported security forces in nearly 60% of events where government forces have regained territory from al-Shabaab. During the first phase of the offensive against al-Shabaab, Somali security forces regained control of over 215 locations previously under al-Shabaab's control, mostly in Hirshabelle and Galmudug states. However,  Somali security forces, who failed to fully drive out al-Shabaab militants from both states, still lack the military capacity to hold newly liberated areas. Al-Shabaab, in turn, took advantage of this weakness to maintain bases and launch complex attacks against government troops. In particular, they regained lost territories in Hirshabelle as the government expanded the offensive to Galmudug state.
As the federal government anticipates a lack of support from clans in the south for the second phase of operations,2International Crisis Group, 'Sustaining Gains in Somalia's Offensive against Al-Shabaab,' 21 March 2023 it is seeking more support from neighboring states who are already present in Somalia under the African Union Transition Mission in Somalia (ATMIS) – possibly indicating a plan to scale down the role of clan militias in the operation.3Garowe Online, 'Exclusive: Somalia to launch 2nd phase of offensive against Al-Shabaab,' 26 March 2023 Djibouti, Ethiopia, and Kenya have reportedly promised over 30,000 soldiers to support the offensive in the coming months.4Hiiraan Online, 'Somalia's neighbours commit to send more than 30,000 additional troops to combat Al-Shabaab,' 2 March 2023 This situation update analyzes the activities of al-Shabaab and the security forces during the second phase of the offensive and assesses the risk that political differences between the federal government and some of member states, like Jubaland and Puntland, may undermine the operations.
Al-Shabaab Aims for Hirshabelle While Continuing Attacks in Banadir
After the counter-insurgency operation against al-Shabaab expanded to Galmudug state in early 2023, Hirshabelle state became a vulnerable target for al-Shabaab attacks. These vulnerabilities have forced Somali security forces to stay focused on Middle Shabelle and Hiiraan regions in the second phase of the offensive rather than expanding to Jubaland and Southwest states. From 18 March to 14 April, ACLED records 19 political violence events involving al-Shabaab in Hirshabelle state, resulting in at least 145 reported fatalities (see map below). Over 68% of these incidents were remote violence events, which record an increase of 30% compared to the previous four weeks.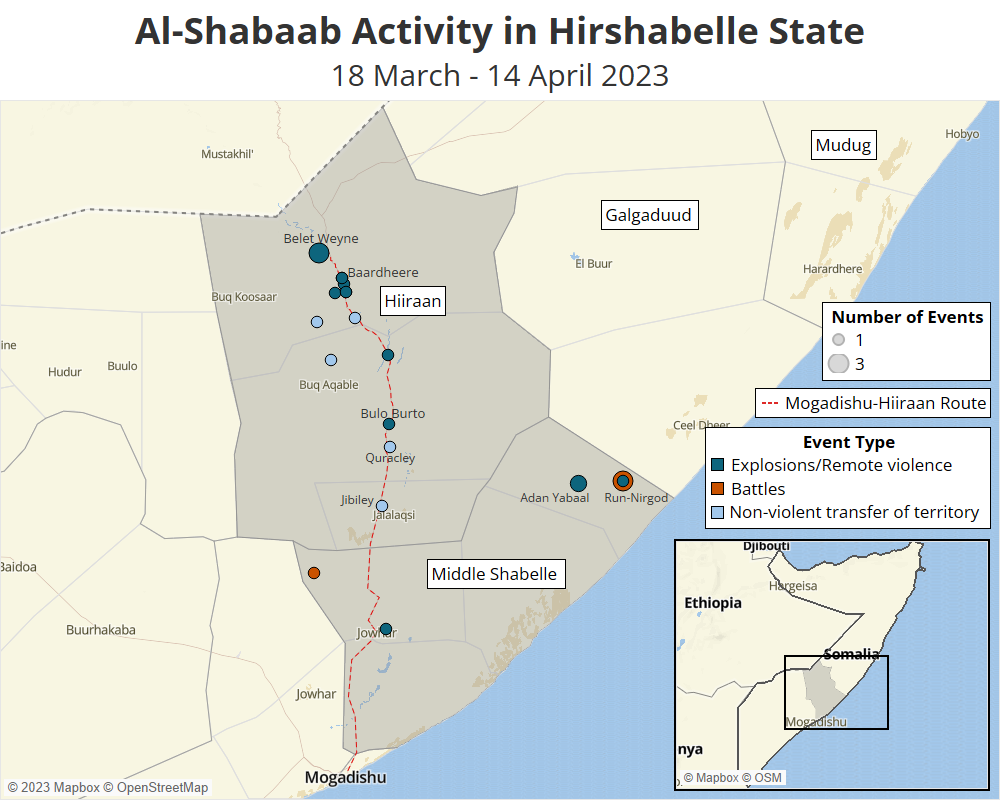 In Middle Shabelle region, al-Shabaab launched several attacks in Adan Yabaal district – in most instances using explosives. On 25 March, al-Shabaab detonated three under-vehicle IEDs (UVIED), targeting security forces and Abgal clan militias at a base in Run-nirgod village. The explosion and heavy gunfire exchange that followed resulted in over 50 reported fatalities. A few days earlier, on 20 March, another al-Shabaab attack at a base in Daarul-Naciim village reportedly killed at least 55 people from both sides. The attacks came before the visit of the Somali President on 26 March to Adan Yabaal town, where he announced the launch of the second phase of the offensive against al-Shabaab.5Somali Guardian, 'Somalia's president arrives in Adan Yabal town amid tight security,' 26 March 2023; Hiiraan Online, 'Somali President launches second phase of anti-Al-Shabab operations,' 28 March 2023 The same day, a high-level Ethiopian delegation that included the head of the Ethiopian National Defense Force and senior government officials arrived in the capital of Hiiraan region, Belet Weyne town, to help Somali forces plan the next phase.6Hiiraan Online, 'Ethiopian military delegation arrives in Somalia to prepare for joint offensive against Al-Shabaab,' 26 March 2023 Ethiopian troops have been fighting Islamist militants in Somalia since 2006 independently,7Jeffrey Gettleman, 'Ethiopia Hits Somali Targets, Declaring War,' New York Times, 25 December 2006 and as part of the AU Mission in Somalia (AMISOM) since January 2014.8Mohammed Yusuf, 'Ethiopian Troops Join AU Force in Somalia,' Voice of America, 22 January 2014 AMISOM was eventually replaced by ATMIS in 2022.9The EastAfrican, 'From Amisom to Atmis: Will new AU mission in Somalia succeed?,' 1 April 2022
Meanwhile, security forces continued offensive operations in Hiiraan to avert al-Shabaab attacks. The government deployed troops from Mogadishu to the region, traveling along the main supply route that connects Mogadishu to Hiiraan.10Radio Risala, 'Security forces capture village from al-Shabaab in Hiiraan,' 25 March 2023 On 25 March, security forces captured Jibiley village in Jalalaqsi district and Quracley village in Bulo Burto district from al-Shabaab. While militants peacefully vacated those villages, they continued to launch attacks on security forces and clan militias' new bases near Belet Weyne town. On 29 March, an al-Shabaab suicide vehicle-borne IED attack targeted security forces and Hawadle clan militias at a base in Baardheere village, followed by clashes. 
Further, al-Shabaab continued measures to end the alliance between government forces and the Hawadle sub-clan in the second phase of the offensive. The Hawadle sub-clan of the Hawiye clan is the largest and most prominent sub-clan in Hiiraan. There are four main clans in Somalia: Hawiye, Darod, Dir, and Rahanweyn, with each having several sub-clans and those sub-divisions, some supporting al-Shabaab, and others supporting the government operation against al-Shabaab.11Reuters, 'FACTBOX – Clan structure key to understanding Somalia,' 5 December 2007 Since al-Shabaab controls several remote villages in Hiiraan and other regions, sub-clans consider it necessary to reach an agreement with al-Shabaab for their safety, and in return for their support or neutrality, al-Sahabab offers them peace deals.12Hiraal Institute, 'Governance Without Presence: The Somali Government's Liberation Struggles,' April 2023 On 5 April, al-Shabaab claimed to have signed an agreement with Hawadle Galible Hassan Agoon sub-clan in Buqda Caqable village, Bulo Burto district. The agreement stipulates that the sub-clan would not be part of the ongoing offensive in Hiiraan region. Similar agreements were reportedly signed between al-Shabaab and at least seven other sub-divisions of the Hawadle sub-clan in Buqda Caqable village this year. Al-Shabaab also reached an agreement with clan elders from Habar Gedir Salebaan sub-clan in Xarardheere town, Mudug region, in December 2022.
Meanwhile, al-Shabaab continues its efforts to destabilize the government operation by launching attacks in urban towns. The capital Mogadishu records the highest number of al-Shabaab attacks compared to other urban areas in Somalia, with 49 political violence events and at least 21 reported fatalities. Al-Shabaab's use of explosions and remote violence increased in the capital by over 87% during the reporting period compared to the same time period prior; the group's use of grenades, in particular, increased more than four-fold (see graph below).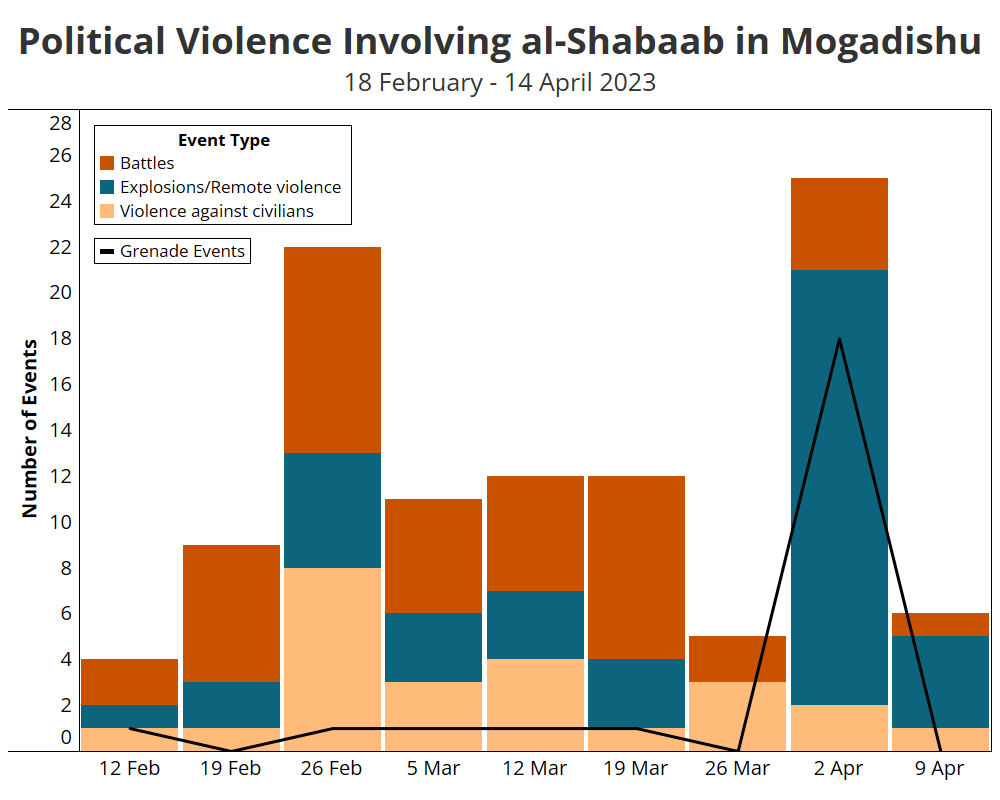 On 5 April, al-Shabaab carried out coordinated hand grenade attacks in all 17 districts of Mogadishu. The grenade attacks targeted security force checkpoints, the house of the mayor of Mogadishu and governor of Banadir, the house of former Prime Minister Hassan Ali Khaire, and the house of a federal senator. Further, the militants launched mortar shells targeting the presidential palace, with some striking the house of the petroleum minister, reportedly killing a security officer.
Political Differences Undermine the Offensive
As part of the second phase of the offensive, the federal government plans to expand the offensive to Jubaland and Southwest states in southern Somalia.13Goobjoog, ''Final push' against Al-Shabaab coming soon, Somali infantry commander says,' 23 March 2023 Political differences due to power-sharing disputes in Jubaland and Puntland, however, undermine the operation.
Amid an ongoing dispute with the Jubaland administration based in Kismayo,14Crisis Group, 'Ending the Dangerous Standoff in Southern Somalia,' 14 July 2020 Gedo region politicians and government officials unilaterally announced the recruitment and mobilization of local clan militias to participate in the military operation against al-Shabaab in the region.15BBC Somali, 'What are the forces being trained in Bardhere that caused controversy in Jubbaland?,' 13 March 2023 On the other hand, Jubaland State Minister of Security Yusuf Hussein Dhuumal reportedly rejected such plans to involve local clan militias.16Garowe Online, 'Somalia: Jubaland rejects use of clan militia in Al-Shabaab war,' 21 March 2023 The most prominent sub-clan in Gedo region is the Marehan sub-clan of the Darod clan, which opposes Jubaland President Ahmed Mohamed Islam – also known as 'Madobe' – from the Ogaden sub-clan of the Darod clan. Marehan and Ogaden sub-clans have been fighting over the control of Kismayo since the 1990s.17Faisal Roble, 'Clan Cleansing in Somalia: The Ruinous Legacy of 1991: A Book Review,' 8 November 2013 The current dispute between Gedo politicians, who are mostly from the Marehan sub-clan, and the Madobe administration escalated in 2020 when a leadership dispute led to the federal government's decision to deploy troops in the region.18Garowe Online, 'Ethiopia mediates Gedo leadership conflict in Somalia,' 23 November 2022 Jubaland administration fears that arming Marehan clan militias in Gedo would tip the balance of power in favor of the Marehan sub-clan. Nevertheless, Jubaland security forces continued conducting military operations against al-Shabaab despite the lack of support from local communities. Further, on 3 April, Ethiopian security forces deployed troops in Doolow town, Gedo region, as part of Ethiopia's commitment to increase its military presence in Somalia during the second phase of the counter-insurgency operation.19Garowe Online, 'Ethiopian troops cross over to Somalia in pursuit of al-Shabaab,' 23 March 2023
Political differences between the Puntland administration and the federal government have also complicated plans for the counter-insurgency operation. In mid-March, the federal government and member states held a national consultative council meeting in Baidoa town to discuss the fight against al-Shabaab and to foster cooperation between the federal and member state governments.20Hiiraan Online, 'Somali President opens National Consultative Council meeting in Baidoa,' 16 March 2023 Puntland state president did not attend the meeting citing political differences with the federal government, including the appointment of the new special envoy for Somaliland affairs.21Garowe Online, 'Somalia: Deni skips consultative meeting in Baidoa,' 16 March 2023; Garowe Online, 'Somalia: Puntland opposes of appointment of envoy of Somaliland affairs,' 3 April 2023 On 9 January, Puntland state suspended cooperation with the federal government after skipping the signing of two outcomes of a national consultative council meeting held in Mogadishu in late December.22Garowe Online, 'Somalia: Puntland suspends cooperation with central Government,' 10 January 2023 Although al-Shabaab activity decreased in Puntland during the reporting period compared to the previous four weeks, fighting between al-Shabaab and IS militants led to the reported deaths of at least 40 al-Shabaab militants, including senior members. The fighting erupted after several al-Shabaab militants moved to the mountainous Bari region, likely fleeing from the government's offensive. 
Different administrations in Somalia have adopted distinct approaches to the fight against al-Shabaab, often deeply tied to the clan affiliations of Somali leaders. The previous government – in power from 2017 to 2022 – focused on foreign policy, rebuilding security forces, and leading reconciliation between clans.23Hassan A. Zaylai, 'Farmajo: A Fantastic President of Somalia!,' Hiiraan Online,' 17 February 2022 Meanwhile, the current administration has enlisted support, first from clan militias and now from neighboring countries, in an intensive offensive to flush out al-Shabaab militants. President Hassan Sheikh Mohamud is from the Hawiye clan24Al Jazeera, 'Somalia elects Hassan Sheikh Mohamud as new president,' 15 May 2022 that has sub-clans supporting the government operation against al-Shabaab, including Hawadle and Abgal in Hirshabelle and Habar Gedir in Galmudug. Former President Mohamed Abdullahi Mohamed, also known as 'Farmajo,' who is from the Marehan sub-clan of the Darod clan,25Voice of America, 'Somalia's New Prime Minister Under Scrutiny,' 19 October 2010 failed to get support from the Majerteen sub-clan in Puntland, and Ogaden sub-clan in Jubaland, with the latter intensifying the dispute between Gedo and Kismayo administration.
The progress made through the government operation has put Somalia in a more positive position compared to the last six years. These efforts could help the country recover the decades-long political and security instability, but only if effectively managed through power sharing, reconciliation, and integration of clan militias into security forces. Nonetheless, the greater role of forces from neighboring countries in the offensive might lead to a divide between clan militias and government forces, and claims of a 'foreign invasion' may be used by al-Shabaab in its propaganda in order to recruit fighters. Consequently, military support from Djibouti, Ethiopia, and Kenya might not be a solution but rather a setback in the fight against al-Shabaab. The regional countries are already present in Somalia under ATMIS, although they have not participated in the ongoing offensive due to funding issues and have only offered logistical support and medical evacuation.26Bitania Tadesse, Zekarias Beshah, Solomon Ayele Dersso, 'Cash strapped African Union Transition Mission in Somalia (ATMIS) starts its second year facing uncertain financial future,' 4 April 2023 The Abgal, Habar Gedir, and Hawadle clan militias have played an important role in the security forces' success since August 2022, and scaling down their involvement will likely undermine the government's efforts to defeat al-Shabaab. For the government to claim ownership of the offensive, integrating clan militias into security forces should be considered a priority.