Situation Update | April 2023
Kenya: Rise in Disorder as Opposition Stages Mass Demonstrations
Kenya at a Glance: 25 March-21 April 2023
VITAL TRENDS
ACLED records over 80 political violence events resulting in more than 50 reported fatalities from 25 March to 21 April 2023. Nairobi county had the highest number of political violence events, mainly due to mob violence.

Nairobi county had the highest number of fatalities resulting from political violence as well, with 10 recorded during the reporting period. West Pokot and Samburu counties followed, with eight reported fatalities each. Nearly 40% of all fatalities resulted from violence involving pastoralist militias.

The most common event type was riots, with over 90 events, followed by protests, with over 50 events. The opposition Azimio la Umoja (Resolution for Unity) One Kenya Coalition Party organized demonstrations in over 40 locations around the country.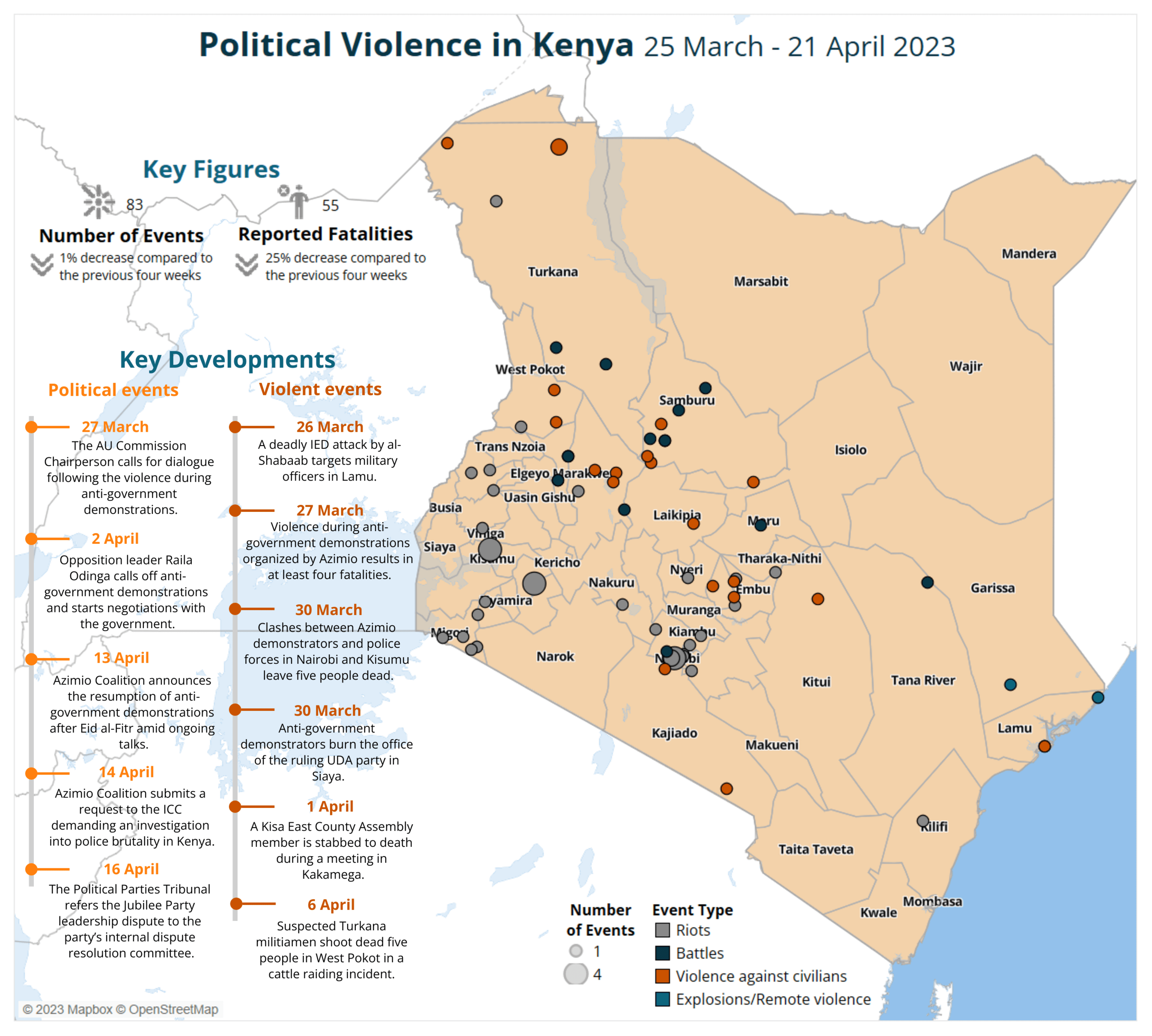 Rise in Disorder as Opposition Stages Mass Demonstrations 
Kenya has recently experienced a spate of opposition-led mass demonstrations, leading to a peak in disorder in the country. Last year, after a disputed election and amid allegations of vote rigging, Kenya's former Deputy President William Ruto from Kenya Kwanza (Kenya First) Alliance was elected president, defeating opposition leader and former Prime Minister Raila Odinga of Azimio La Umoja One Kenya Coalition Party.1Dickens Olewe, 'Kenya election result: William Ruto wins presidential poll,' BBC, 15 August 2022 In February 2023, Odinga rallied his supporters and set a "deadline" for the government to address issues related to the elections and high cost of living, among other grievances, within 14 days. The coalition also announced the creation of a youth resistance wing, the Movement for Defense of Democracy.2Perpetua Etyang, 'You've until Wednesday midnight – Raila tells Ruto over ultimatums,' The Star Kenya, 7 March 2023; The North Africa Post, 'Kenya's opposition leader unveils youth resistance movement to remove incumbent leader,' 6 February 2023 The Kenya Kwanza allies dismissed both as destabilizing attempts by Odinga.3Victor Abuso, 'Kenya: Raila threatens nationwide protest against Ruto's regime,' The Africa Report, 23 February 2023 With demands unmet, the coalition officially launched the protest movement on 9 March, calling for the first nationwide protest on 20 March.4Joseph Muia, 'President Ruto Must Go!' Raila Says As He Declares Start Of Mass Action,' Citizen Digital, 9 March 2023 Demonstrations over the following weeks left several people dead and paralyzed businesses in major towns.5Kabui Mwangi, 'Anti-government protests bring business to standstill in Nairobi,' Business Daily, 20 March 2023 After Ruto appealed for negotiations, on 2 April, Odinga suspended demonstrations, but despite the ongoing talks, the opposition later renewed calls for a new round of protests from 2 May.6Justus Ochieng', 'Azimio to resume anti-govt protests on Tuesday May 2 Monday,' 24 April 2023 This report analyzes the disorder trends related to the opposition-led anti-government unrest during the reporting period. It specifically discusses the opposition's grievances, demands, and activities both in the lead-up to and during the period of unrest. 
Rise in Disorder and Opposition's Grievances and Demands
March witnessed a rise in disorder events in Kenya due to the mass demonstrations called by the opposition. During the reporting period, from 25 March to 21 April, ACLED records demonstrations in almost 80 locations in 28 counties across the country. State intervention in demonstrations increased by over 30% compared to the previous four weeks after opposition-led protests were declared illegal on 19 March.7Mary Wambui, 'Azimio protests are illegal, National Police Service declares,' Daily Nation, 19 March 2023 Over half of the demonstrations during the reporting period were organized by the Azimio Coalition. About half of the recorded demonstration events were violent demonstrations (see graph below), with reports of rioters setting fire to a mosque, church, and police vehicle while also looting and damaging businesses and other property.8Cyrus Ombati, 'Police car burnt by Pro-Azimio protestors in Kawangware,' The Star Kenya, 27 March 2023; Brian Oruta, 'Raila meets Nubian, church leaders in Kibra over Monday chaos,' The Star Kenya, 29 March 2023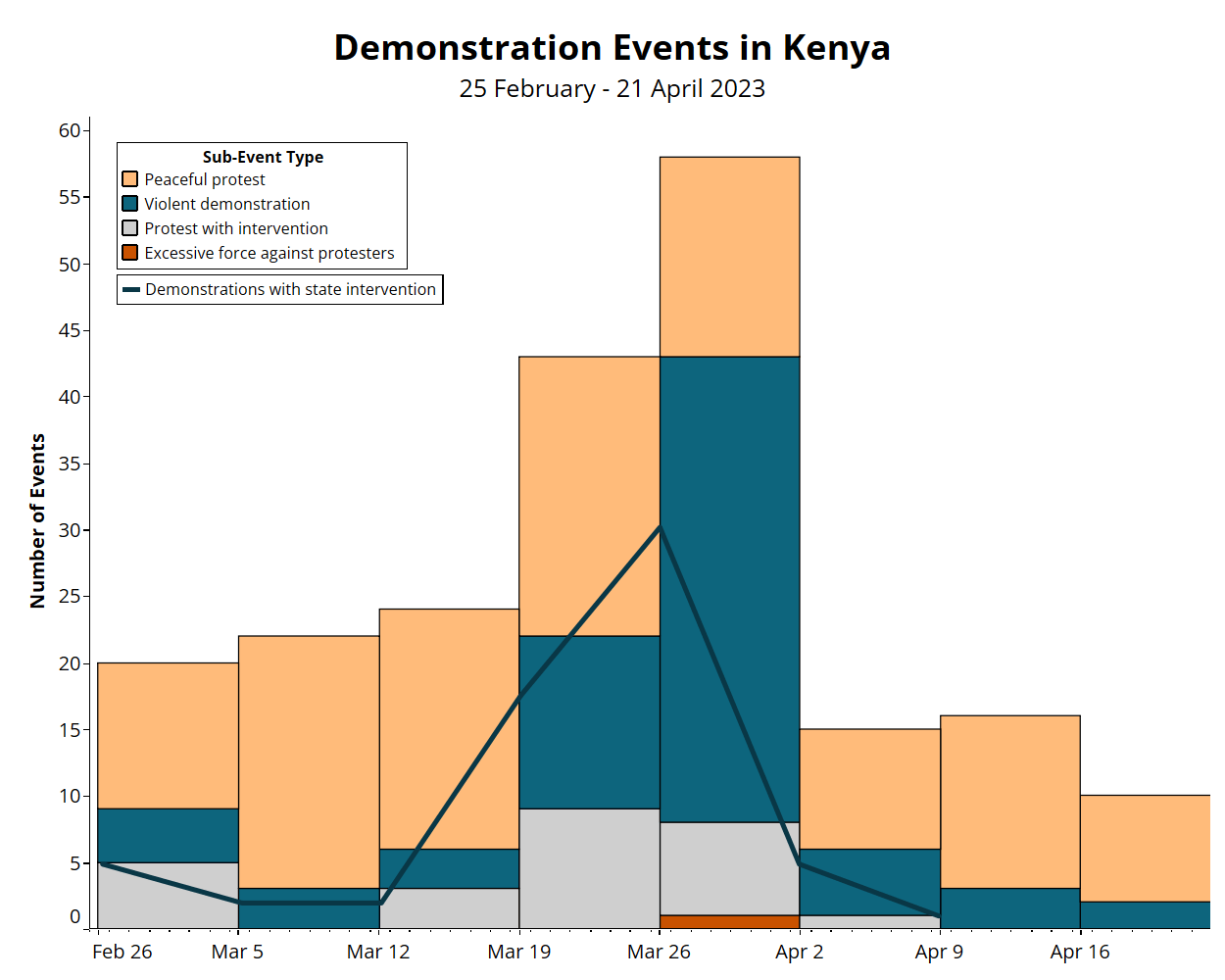 The immediate trigger of the unrest was the high cost of living. In February, the Ruto government stated that it would not reinstate subsidies on essential commodities,9Wycliffe Nyamasege, ''We will not reinstate subsidies because they benefit cartels' – Ruto,' Peoples Daily, 24 February 2023 and it plans to increase tax collection by nearly 20% in the new fiscal year.10Duncan Miriri, 'Kenya looks to fix finances by nailing tax cheats, cutting borrowing,' 19 January 2023; Dominic Omondi, 'How January taxes will hit consumers, companies,' 4 January 2023 Subsequently, Odinga accused the government of "massive looting of the public resources and heartless withdrawal of subsidies to food, fuel and education."11Citizen TV Kenya, 'Raila Odinga lists reasons why President Ruto must leave office,' 9 March 2023 The prominent Kenyan Christian organization, the National Council of Churches of Kenya, also supported the move.12Emmanuel Wanjala, 'NCCK supports Azimio's mass action over cost of living,' The Star Kenya 15 March 2023 Beyond the cost of living, Odinga, who had claimed fraud during the last presidential election, demanded an audit of the Independent Electoral and Boundaries Commission (IEBC) servers to verify the election results.13Muriel Adhiambo, 'Open IEBC servers, Azimio chief demands,' Peoples Daily, 21 March 2023 Meanwhile, Ruto has taken steps to unilaterally select the IEBC commissioners – a move Odinga claims Ruto has taken without consultations with other interested parties and stakeholders.14Perpetua Etyang, '15 reasons why we have declared mass protests – Raila,' The Star Kenya, 9 March 2023
The unrest was a culmination of months-long preparations in the form of rallies, dubbed 'People's Barazas' – consultative forums used for criticizing the Kenya Kwanza government for failing to live up to its election promises.15Richard Kamau, 'People's Baraza: Azimio Rallies Going To Kibera This Week,' Nairobi Wire, 3 February 2023 The forums intended to build momentum ahead of the demonstrations by calling on all Kenyans to join the movement.16Onyango K'Onyango, 'Azimio announces more rallies in Kibra, Machakos,' Daily Nation, 2 February 2023 Apart from Odinga from the Orange Democratic Movement, leaders of other parties, members of the parliament, and county governors part of the Azimio Coalition also attended the rallies.17Onyango K'Onyango, 'Governor Natembeya no-show at Azimio's Trans Nzoia rally,' Daily Nation, 26 February 2023 The rallies were held not only in counties where the coalition is viewed to enjoy massive political support, but also in the strongholds of Kenya Kwanza Alliance, such as Nyandarua and Nakuru.18Kennedy Gachuhi and James Munyeki, 'Azimio lays ground for people's baraza in Nakuru and Nyandarua,' The Standard Kenya, 8 February 2023
Although the rallies were largely peaceful, violence was reported in some locations. For instance, suspected Azimio supporters attacked journalists from TV47 media house and shattered their vehicle's windows during a rally at the Jacaranda grounds in Embakasi, Nairobi, on 29 January. On 17 March, unknown people stormed the venue of a planned Azimio rally in Githurai, located at the border of Nairobi and Kiambu counties, vandalizing the dais. With the lapse of the 14-day ultimatum, on 9 March, the coalition launched a campaign of defiance consisting of picketing, strikes, and peaceful protests.19Joseph Muia, 'President Ruto Must Go!' Raila Says As He Declares Start Of Mass Action,' Citizen Digital, 9 March 2023; Justus Ochieng,' 'Raila mass action call sets stage for face-off with Ruto,' Daily Nation, 10 March 2023 The protests started the following day in the western region, in Vihiga and Kisumu counties. 
Unrest Escalates and Expands
The demonstrations gained momentum following Odinga's call to action, with Azimio supporters in other areas taking to the streets. While the majority of demonstrations were peaceful between 10 to 19 March, violence escalated on 20 March, a day after the National Police Service declared these protests illegal.20Mary Wambui, 'Azimio protests are illegal, National Police Service declares,' Daily Nation, 19 March 2023 To encourage Azimio supporters to participate in the planned protests, Odinga told supporters they had "a date with destiny" on 20 March, and he symbolically declared it a 'public holiday.'21Martin Mwanje, 'Azimio leader Raila Odinga calls for countrywide mass action,' Kenya Broadcasting Corporation, 9 March 2023; Joseph Muia, 'Raila Declares Monday A 'Public Holiday' As He Calls For Protests,' Citizen Digital, 14 March 2023 Attending a demonstration himself in Nairobi, he called for weekly nationwide protests after police blocked him from entering Serena Hotel where he was scheduled for a news conference.22Bethlehem Feleke, 'Kenya opposition leader calls for weekly protests after being tear-gassed by police,' CNN, 20 March 2023 That day, a Maseno University student was shot and killed by police in Kisumu county, in what was the first reported fatality due to the unrest. As a response, the coalition announced a change in schedule, doubling the protests to twice a week, on Mondays and Thursdays. The coalition also called for an economic boycott by urging its supporters to boycott products and services from certain companies allegedly linked to the Kenya Kwanza administration.23Justus Ohieng, 'Raila Odinga calls for protests twice a week,' Business Daily, 21 March 2023
From 10 March to 21 April, ACLED records pro-Azimio anti-government demonstrations in over 55 locations in the country. Nearly half of these were violent demonstration events, with 70% occurring in Nairobi and Kisumu counties – both Azimio strongholds (see map below). Both counties also saw the highest rate of state intervention in demonstrations compared with other counties. At least seven fatalities were reported during the unrest in these two counties, including the aforementioned student and a police officer who was hit by a police car during the demonstrations.
During the unrest, police in riot gear engaged the demonstrators in clashes, and used tear gas, water cannons, and at times live bullets to disperse the groups attending the demonstrations. Police forces also arrested hundreds of Azimio supporters, including several Azimio leaders and lawmakers.24Cyrus Ombati, 'Azimio supporters arrested ahead of planned protests,' The Star Kenya, 27 March 2023; Carolyne Kubwa, 'Six Azimio leaders charged with unlawful assembly, malicious damage,' 23 March 2023 Emphasizing Azimio's role in instigating the disorder, the Ministry of Foreign Affairs called for the international indictment of Odinga for causing the unrest.25Justus Ochieng', 'Ruto, Raila take their battles to the international community,' Daily Nation, 22 March 2023 On the other hand, in a letter recently submitted to the International Criminal Court (ICC) prosecutor, Azimio Coalition requests a probe into the political situation in the country. The coalition alleges the formation of a special police squad in plain clothes responsible for the killing and maiming of its supporters during the demonstrations.26Martin Oduor, 'Azimio writes to ICC, asks prosecutor to investigate police IG Japheth Koome,' People Daily, 14 April 2023 
Moreover, ACLED records violent events involving alleged pro-government militias, amid tensions and allegations that former President Uhuru Kenyatta was responsible for funding the demonstrations.27Wangechi Wang'ondu, 'Uhuru sponsoring Azimio protests to destabilise Ruto – Ichung'wa,' The Star Kenya, 20 March 2023 On 27 March, an unidentified armed group stormed Kenyatta's family farm in Ruiru, Kiambu county, and stole thousands of cattle before setting the farm ablaze. There was no report of police intervention.28Cyrus Ombati and Collins Shadrack, 'IPOA probes police failure to protect Uhuru, Raila property from goons' invasion,' The Star Kenya, 28 March 2023 A media report claims that the militia was mobilized in advance by two members of the parliament and a former governor, among others.29The EastAfrican, 'Revealed: How attack on Kenyatta's farm was planned and executed,' 29 March 2023 On the same day, another group destroyed property and smashed windows of the building at a company linked to Odinga in Nairobi Industrial Area. 
There were also occasional reports of property destruction by the demonstrators. For instance, in Kisumu, on 30 March, Azimio supporters stormed a mortuary and vandalized and stole items worth millions of shillings after mortuary attendants did not let them see the body of a person allegedly shot by police during the unrest. The same day, in the neighboring Siaya county, demonstrators outnumbered the police and set Ruto's United Democratic Alliance (UDA) party office ablaze before carting away valuables. Additionally, from 27 to 30 March, ACLED records several incidents of violence against journalists by the rioters and the police, sparking public outrage.30The EastAfrican, 'Outrage as Kenyan police attack journalists during protests,' 31 March 2023
On 2 April, the Azimio leader called off mass protests, in what appeared to be a truce with the government.31Mariama Diallo, 'Kenya Opposition Leader Odinga Calls Off Monday's Protest,' Voice of America, 2 April 2023 Azimio made the announcement moments after President Ruto's state of the nation live address, where he called for a peaceful resolution of the Azimio grievances, especially on the reconstitution of the IEBC.32The EastAfrican, 'Kenya protests call off: The give and take in Raila Odinga, William Ruto truce,' 3 April 2023 Pressure from the African Union and western states likely convinced the opposition and the government to call for a truce.33Justus Ochieng, 'Pressure piles on Ruto as West spurns Odinga's poll challenge,' The EastAfrican, 2 April 2023 Already, both camps have selected their seven representatives to the bipartisan committee ahead of the dialogue.34Justus Ochieng, 'Ruto unveils Kenya Kwanza team for bi-partisan talks,' Daily Nation, 11 April 2023; Irene Mwangi, 'Azimio Lists 7-Member Team On IEBC Reconstitution Bi-Partisan Talks,' Capital FM, 6 April 2023 The committee has also selected two representatives, one from each camp, to serve as co-chairs of the dialogue.35Maureen Kinyajui, 'MPs Murugara, Otiende to lead bipartisan committee talks,' The Star Kenya, 20 April 2023 Nonetheless, it is not yet clear how far the bipartisan teams will go in addressing all the grievances raised by the opposition. Azimio leaders have already kicked off new rallies as a precursor to another set of planned mass protests from 2 May, should the government back out from the dialogue.36Moses Nyamori and Samwel Owino, 'Azimio to hold rallies as curtain raiser for new round of street protests,' Daily Nation, 16 April 2023; Justus Ochieng', 'Azimio to resume anti-govt protests on Tuesday May 2 Monday,' 24 April 2023 Moreover, the opposition has claimed sabotage after the government poached some Azimio members to be its representative in the bipartisan committee.37Maureen Kinyanjui, 'Azimio cries foul, claims sabotage after Ruto reveals team for talks,' The Star Kenya, 11 April 2023 While it is unlikely that the ICC will open investigations into the Kenya situation as demanded by the Azimio Coalition, both the government and Azimio's measures show distrust and might undermine the bi-partisan dialogue and the peace and stability of the country at large.