This is the first installment in our actor profile series unpacking the latest data on armed group activity around the Sahel. All data are available for direct download. Definitions and methodology decisions are explained in the Codebook. For more information, please check the full ACLED Resource Library.
Introduction: Self-Defense Hunter Militia of the Dogon 
Dan Na Ambassagou1Dan Na Ambassagou is the main ethnic Dogon-majority militia and the umbrella organization of Dogon militias in 'Dogon Country'. Over time, ACLED has coded events that may or may not be associated with the group Dan Na Ambassagou as Dogon Ethnic Militia (Mali) and Dozo Communal Militia (Mali). These coding designations are made based on reports that often do not mention the group's name or use the collective terms 'chasseurs' or 'Dozos' (hunters). The lack of detailed reports also creates confusion about the various groups and their affiliation or non-affiliation with Dan Na Ambassagou. Therefore, the data in this report is based on what is collectively referred to as 'Dan Na Ambassagou and similar groups.' is a loyalist umbrella organization of Dogon village self-defense groups (HRW, 4 February 2020). It is active in central Mali, with its stronghold on the Bandiagara Escarpment, otherwise known as the Cliffs of Bandiagara. It is composed primarily of ethnic Dogon but also includes members of other ethnic groups such as the Dafing, Samogo, Bobo, Telem, and Mossi (Resolve Network, 29 November 2021). The movement's core consists of traditional hunters, Dozo (or Dana in the Dogon language), with the name Dan Na Ambassagou meaning "Hunters who trust in God" (RFI, 17 December 2020).
Dan Na Ambassagou formed in December 2016 after the then leader of the Dogon hunter fraternity, Theodore Soumbounou, was assassinated in October 2016 by jihadist militants believed to be ethnic Fulani. By organizing and mobilizing the Dan Na Ambassagou movement, the Dogon hunters claimed to be fulfilling Soumbounou's desire for the organized protection of Le Pays Dogon (or Dogon Country) and the Dogon community (HRW, 4 December 2018).
The movement's military wing is led by the movement's founder and Chief of Staff Youssouf Toloba, a long-serving militiaman and former member of Ganda Koy and Ganda Izo militias that were created during the Tuareg rebellion in the 1990s (Le Point, 12 December 2018). The exact number of Dan Na Ambassagou militiamen is difficult to estimate, but reports indicate that there are between several hundred and five thousand members (HRW, 7 December 2018; Jeune Afrique, 14 May 2019). The group maintains a military-like structure; however, it is not a fully cohesive group, with some village self-defense groups only nominally affiliated. Military capabilities vary widely within the movement. While the majority are equipped with traditional hunting rifles, 'elite' units of Dan Na Ambassagou are equipped with modern small arms and light weapons, which appear to be surplus assault rifles from state stockpiles (Amnesty International, 24 August 2021). These include leader Toloba's guard corps and the group known as Fato Camp (or "The Crazies") (Pinal, 15 October 2020), which operates in the Somadougou area.
Former military Captain Mamadou Goudienkilé heads the movement's political wing (ICG, 9 November 2020), which is responsible for coordinating relations with the authorities and engaging with the media.
Activity and Area of Operations
The Dan Na Ambassagou movement is one of central Mali's most active armed groups. Political violence involving the group is reported in six of the eight subdivisions (or cercles) in the Mopti region. The movement is involved in a range of activities, including engagement in battles, attacks on civilians, abductions, looting and destruction of property, extortion, and demonstrations (see map below).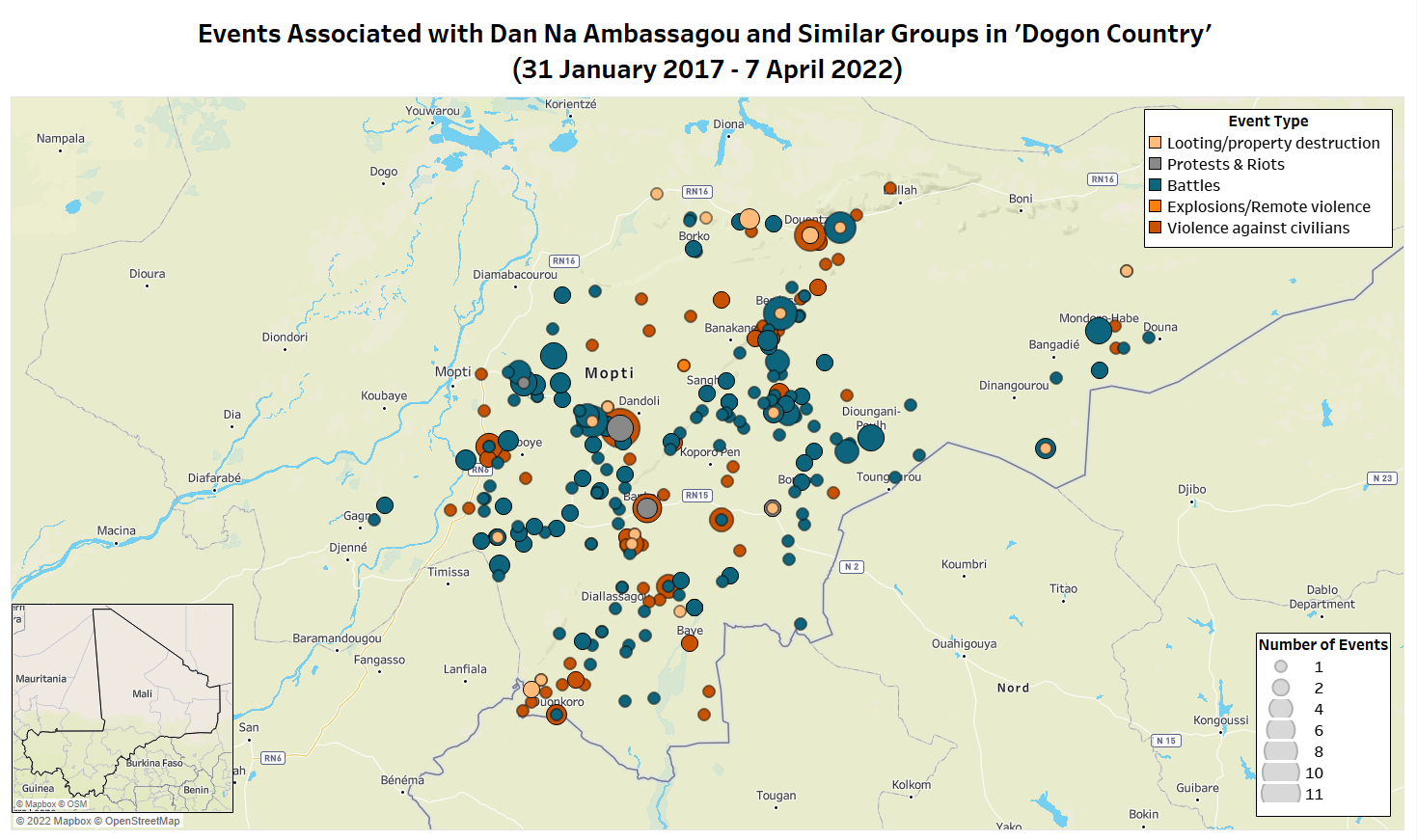 Operations and Engagement with State Forces
The group ​​maintains relations with Malian authorities through its political wing and emissaries in towns such as Mopti, Sevare, and the capital Bamako. Relations with Malian authorities have been marked by ambiguity for years. At times there have been tensions to the point of outright fighting and the military targeting the group with airstrikes. Dan Na Ambassagou's pursuit of legitimacy is complex. The organization thrives on the absence of the state, often employing subversive discourse against it and carrying out activities that might run counter to the state's interests (RFI, 28 March 2019; 17 December 2020). At the same time, in its sphere of influence, the group presents itself as the representative of the republic and an indispensable ally of the same absent state. The group presents itself not only as the legitimate protector of the Dogon community, but also as a republican and secular movement that would enable the return of the state. This portrayal also serves to legitimize the group in the eyes of the international community, presenting itself as an Indigenous and irregular counterinsurgency force engaged in the "war on terror" in Mali (Cairn.info, 2022).
Dan Na Ambassagou has intermittently conducted joint patrols with the Malian Armed Forces (FAMa) and has acted as a guide during military operations. On the battlefield, however, the group has had mixed fortunes. It regularly faces the better armed and more battle-hardened jihadist militants of the Al Qaeda-affiliated Jama'at Nusrat al-Islam wal-Muslimin (JNIM), particularly their Katiba Macina sub-group. JNIM has conducted regular campaigns against Dan Na Ambassagou and its constituent communities over territorial control and influence over the local population. These have intensified with the temporary withdrawal of Malian government forces.
JNIM's increasing military campaigns against Dan Na Ambassagou, and in Le Pays Dogon in general, have been observed since late 2019 and continued largely unimpeded until late 2021. During this period, Dan Na Ambassagou and Donso militiamen suffered significant losses among the deadliest armed clashes ever recorded by ACLED in Mali. In March 2020, a major battle in Borko village resulted in over 100 reported militiamen fatalities (see graph below). In October 2021, Dan Na Ambassagou and Donso militiamen joined forces in a failed attempt to lift a JNIM blockade on the village of Marebougou, resulting in at least 50 reported fatalities. Amid JNIM's continued pressure on the movement, Dan Na Ambassagou's leader, Toloba, has been particularly outspoken about the Malian military's disengagement in the Mopti region in recent years (Bamada, 2 October 2020; aBamako, 18 December 2020).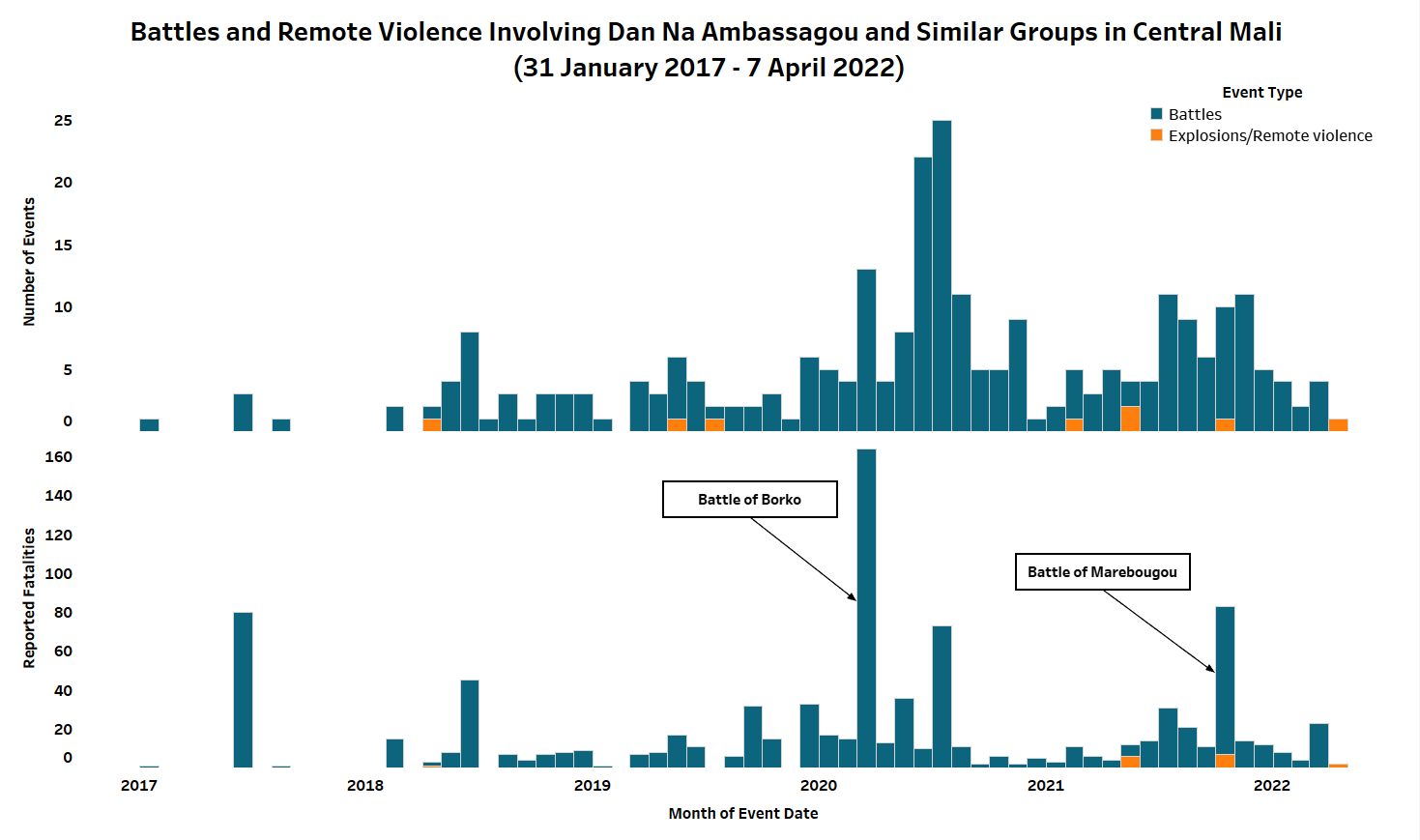 However, since late 2021, Malian troops — accompanied by Wagner Group2According to Malian authorities, who cite bilateral military cooperation between Mali and Russia, the Wagner Group does not have an official presence in Mali (Courrier International, 25 December 2021; Xinhua, 15 April 2022). However, accumulating reports indicate that Russian partner forces in Mali are indeed the Wagner Group (RFI, 10 January 2022; CSIS, 2 February 2022; Reuters, 14 April 2022). forces — have renewed military operations in the Mopti region, reviving the cooperation between Dan Na Ambassagou and FAMa. Despite the renewed cooperation, FAMa has since accused some armed self-defense groups of exploiting their renewed engagement to conduct "unorthodox activities and abuses against vulnerable populations, including deliberate acts of revenge" (Forces Armees Maliennes, 16 February 2022).
Civilian Targeting
Dan Na Ambassagou relies on the Dogon community for recruitment, funding, and support (RESOLVE, November 2021). Members of the Dogon community who oppose or undermine Dan Na Ambassagou's authority are routinely intimidated or attacked. Dan Na Ambassagou has targeted Dogon communities by extorting, abducting, and killing villagers in Bandiagara, Bankass, Douentza, and Koro in the Mopti region; particularly those who refuse to comply with demands for money and recruits or who have agreed to peace agreements with Fulani communities. At the same time, JNIM, has carried out both violent and nonviolent actions against Dogon communities, simultaneously coercing and posing as a mediator and guarantor of peace agreements between Fulani and Dogon communities. Through these actions, JNIM has undermined both Dan Na Ambassagou's influence and the state forces present in the region. Dan Na Ambassagou maintains strong influence in its traditional stronghold throughout Mopti region, including: on the cliffs of Bandiagara; in the major towns Bandiagara, Bankass, and Douentza; and in the vicinity of these towns. The group frequently runs checkpoints, extorts road users, and abducts people on sections of major transit routes, principally between Bandiagara and Mopti and between Douentza and Konna. However, the group's influence has waned considerably, particularly in the Seno-Gondo plain, where JNIM and its affiliates conduct sustained military campaigns and engage in peace agreements with communities to assert control.
Dan Na Ambassagou has repeatedly accused the Fulani of being jihadist militants or complicit in harboring them in their villages and hamlets (HRW, 7 December 2018). The accusations against the Fulani have regularly translated into indiscriminate attacks on the Fulani community. Dan Na Ambassagou is believed to have perpetrated some of the deadliest attacks on civilians in Mali. These include mass atrocities against the Fulani community in Kologoun-Peulh and Ogossagou villages in 2019 (FIDH, 26 March 2019; HRW, 10 February 2020) (see graph below), allegations the group denies.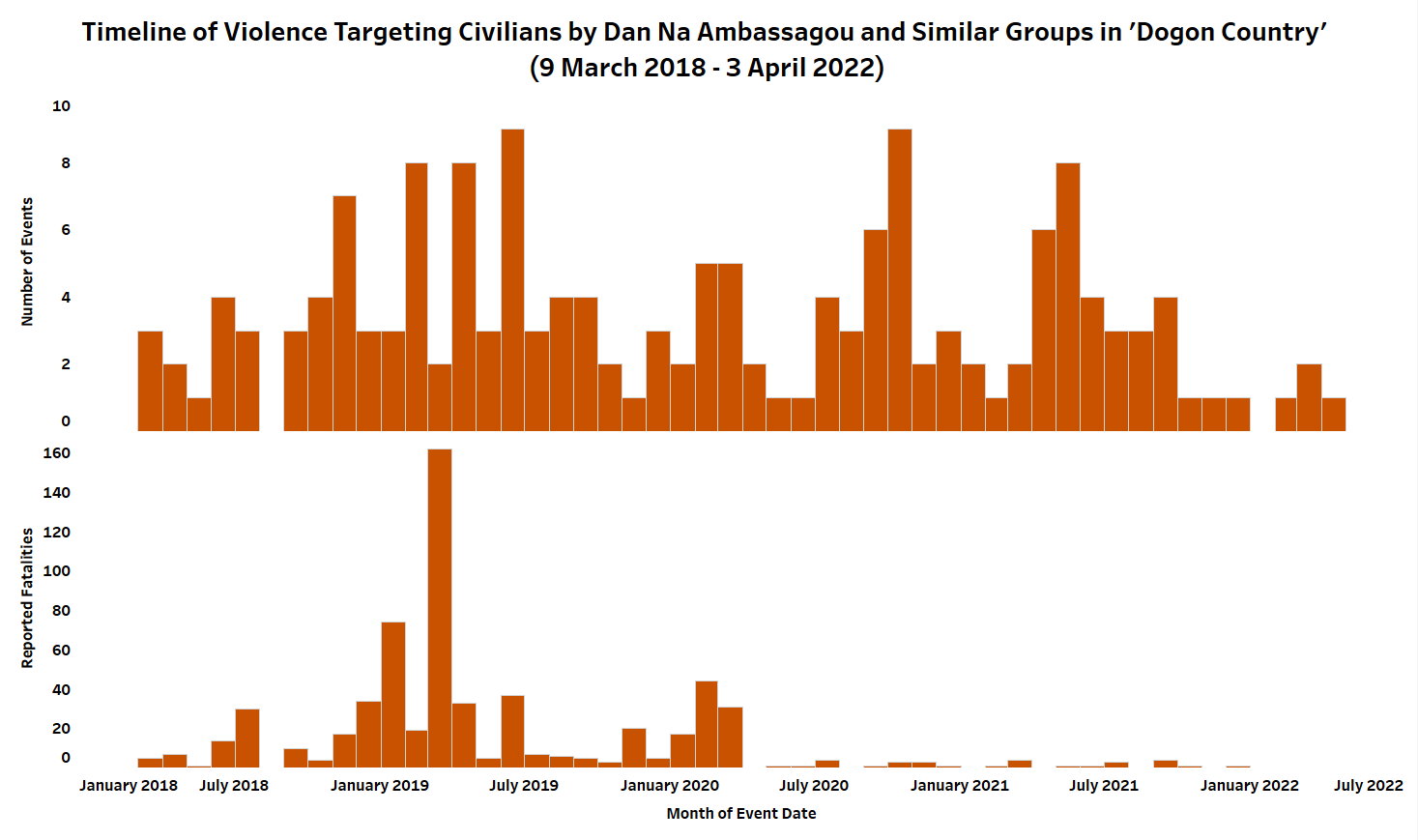 The massacre in Ogossagou, in which about 160 people were reportedly killed, led to the dismissal of three army chiefs (Le Parisien, 25 March 2019), and the government announcing the dissolution of Dan Na Ambassagou (BBC, 24 March 2019). Ultimately, Dan Na Ambassagou refused to disband (RFI, 28 March 2019), and instead, the government itself resigned under the then Prime Minister Soumeylou Bobeye Maiga (Al Jazeera, 19 April 2019). Despite public outrage at Dan Na Ambassagou's indiscriminate attacks, the group managed to soften the pressure to disband. It is noteworthy that the number of deaths caused by Dan Na Ambassagou has decreased significantly since the beginning of 2020 (see graph above), and coincides with increasing pressure from militants and the disengagement of the Malian military.
Looking Forward
FAMa, along with the Wagner Group, regained ground in central Mali during military operations that began in late 2021. The downward trend observed in 2021 for civilian fatalities has since been reversed due to the attacks on civilians by Malian government forces during these operations. Given their poor human rights records and involvement in mass atrocities, the probability of closer cooperation between FAMa, the Wagner Group, and Dan Na Ambassagou is also a cause for concern. The effective return of FAMa could alter the already delicate balance of power between armed non-state actors and trigger further abuses and revenge attacks. Subsequently, their return could lead to even more devastating cycles of violence and instability, in addition to the ongoing attacks on civilians amid military operations. Like many other state forces in the region, Malian government forces continue to struggle to sustain pressure on militant groups, maintain a presence in many areas, and provide stability. Therefore, another withdrawal cannot be ruled out, as this is a regular pattern that has prevailed in the Sahel region for years. With Dan Na Ambassagou and similar groups currently reorganizing amid the return of the Malian military alongside the Wagner Group, renewed cycles of violence are likely to occur into the future.