War in Ukraine
One Year On, Nowhere Safe
Executive Summary 
Since the beginning of Russia's full-scale invasion of Ukraine, ACLED records nearly 40,000 political violence events across the country. Three-quarters of these events are shelling, artillery, and missile strikes mostly affecting the northeastern, eastern, and southern regions of Ukraine. Quantifying the civilian toll of the conflict presents a challenge – especially in areas continuously engulfed by violence, like eastern Ukraine. In areas under Russian occupation, reports of abductions, forced disappearances, torture, and extrajudicial executions have been widespread, though the scale of violence against civilians becomes known only upon the liberation of territories, evidenced in the case of northern Ukraine and especially the Kyiv suburbs. Meanwhile, long-range strikes, including those deliberately targeting civilian infrastructure, pose a permanent threat and continue to induce extreme hardship for communities even farther afield from the frontline.
Introduction 
In the early hours of 24 February 2022, Russia invaded Ukraine by land, air, and sea from the north, east, and south. The ensuing fighting led to the highest levels of political violence recorded in a single country by ACLED in 2022, exacting a heavy toll on civilians who are not only caught up in shelling and indiscriminate strikes, but are also subjected to deliberate attacks and harsh treatment in occupied areas.
Kyiv was the prime target of the attack. Ukrainian forces stopped Russian columns north of the capital and, by April 2022, forced their retreat across the border. In southern and eastern Ukraine, however, Russian forces quickly seized the entire Kherson and much of the Zaporizhia regions as well as the eastern part of the Kharkiv region and the southern part of the Donetsk region. Upon suffering setbacks in northern Ukraine, Russian forces concentrated on securing the entire Donbas and consolidating their hold of the land bridge to the annexed Crimean peninsula. By mid-summer 2022, Russia had largely occupied the Luhansk region but eventually lost momentum and became embroiled in the heavily fortified northern part of the Donetsk region. In early September 2022, Ukrainian forces broke through thinly manned Russian defenses and liberated most of the Kharkiv region, thus denying Russia an axis of attack on the Donbas. On 30 September 2022, Russia annexed the Donetsk, Kherson, Luhansk, and Zaporizhia regions of Ukraine following hastily arranged referendums claiming improbable turnouts and votes in favor of unification with Russia.1Novaya Gazeta Europe, ''Referendum' results are in: Donetsk and Luhansk 'people's republics', occupied areas of Zaporizhzhia and Kherson regions vote in favour of joining Russia,' 28 September 2022
Albeit denied air superiority in non-occupied areas, Russia methodically bombed targets elsewhere in Ukraine throughout its invasion – often striking non-military sites, and killing or maiming civilians in the country's hinterland. Ukraine's civilian energy infrastructure also became the target of salvos of missiles and scores of Iranian-made suicide drones. By mid-November 2022, beset by supply issues, Russian forces withdrew from the western bank of the Dnipro River and left Kherson city – the only regional center Russia managed to capture since the beginning of its invasion. The muddy season that followed precluded breakthroughs by either side but allowed Russia to patch up defenses with newly mobilized personnel. In winter 2023, Russian forces appeared to be renewing their offensive in the Donbas aiming to push back Ukrainian forces from the Svatove-Kreminna line in the Luhansk region and attempt another thrust on Kramatorsk and Sloviansk in the Donetsk region.
ACLED records nearly 40,000 political violence events in Ukraine since the start of the Russian invasion, of which three-quarters constitute shelling, artillery, and missile strike events, with northeastern, eastern, and southern regions among the most affected. The scale of violence since the invasion has rendered Ukraine the deadliest country in the world for political violence in 2022. In Ukraine – as in many contemporary armed conflicts – civilians have borne the brunt of much of the hostilities, although the exact toll that the conflict has taken on civilian populations remains difficult to quantify. While ACLED records over 5,000 reported civilian fatalities in events specifically targeting civilians, this is a conservative estimate subject to the methodological limitations of an event-based dataset like ACLED as well as of real-time reporting in a large-scale conflict. Indeed, the United Nations announced that over 8,000 civilians are estimated to have died across Ukraine since 24 February 2022.2OHCHR, 'Türk deplores human cost of Russia's war against Ukraine as verified civilian casualties for last year pass 21,000,' 21 February 2023 Given the intensity of fighting in frontline areas and the highly urbanized nature of Ukraine, however, the civilian toll is likely to be much higher, with hundreds of thousands of civilians caught in crossfire unable to – or at times deliberately prevented from – leaving hazardous areas.
This report breaks down trends according to geographic region to account for the inevitably varying levels of clarity available for each, as different regions have seen different levels of violence and occupation over the course of the conflict. Northern Ukraine was occupied only briefly, though the large-scale killings and the ill-treatment of civilians perpetrated by the Russian forces may constitute apparent war crimes.3Veronika Bílková et al, 'Report On Violations Of International Humanitarian And Human Rights Law, War Crimes And Crimes Against Humanity Committed In Ukraine (1 April – 25 June 2022),' OSCE/ODIHR, 14 July 2022 Fighting has been most acute in eastern Ukraine during the entire year, which most likely resulted in a massive civilian toll that is practically impossible to estimate due to the lack of disaggregated data. The sections covering the eastern part of the country provide a greater level of detail, as four of the five constituent regions have been subjected to the worst fighting over the course of the year. Southern Ukraine presents a mixed picture, as it has been partially occupied since the beginning of the invasion. Meanwhile, in central and western Ukraine, the civilian population has faced a constant threat from air and drone strikes.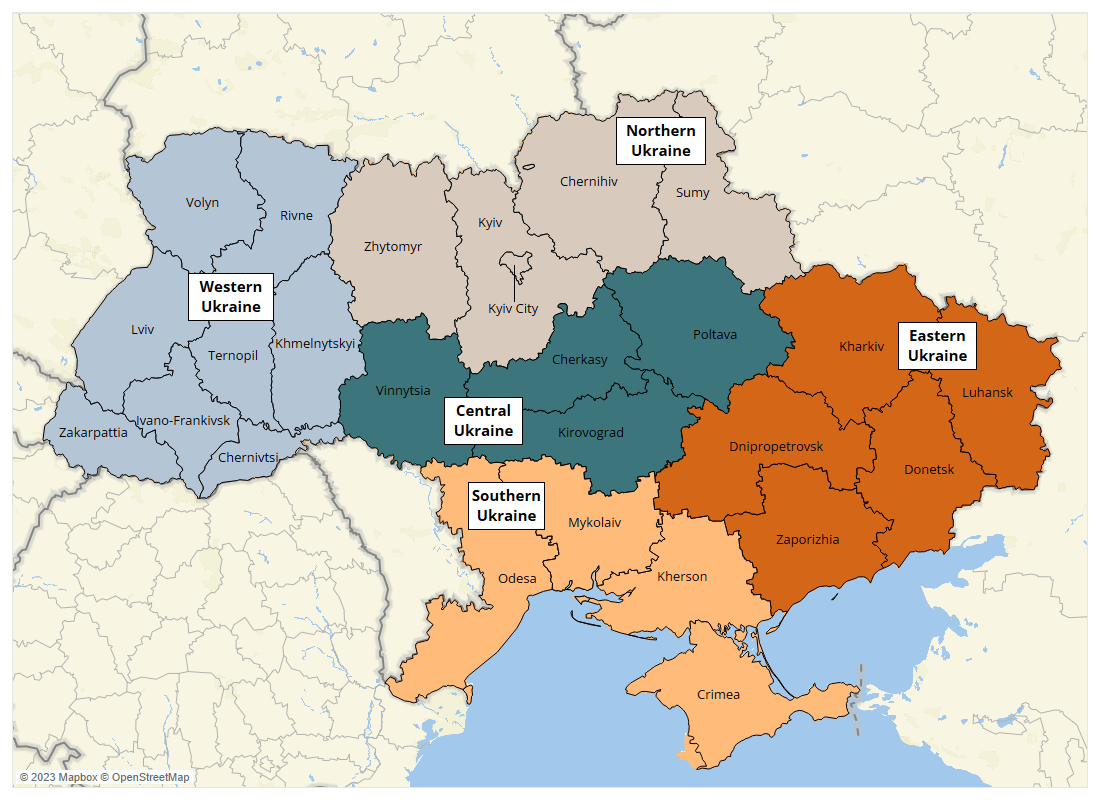 Apparent War Crimes in Northern Ukraine
Russia's invasion of northern Ukraine on 24 February 2022 was short-lived but brutal. The Russian 'shock and awe' campaign was meant to swiftly defeat the Ukrainian army, depose the government of Ukrainian President Volodymyr Zelenskyy, secure key cities and strategic infrastructure (especially nuclear power plants), and fully occupy the country within the first 10 days of the invasion.  Units advancing from Belarus were ordered to reach Kyiv using major roads within the first couple of days, rather than wait for air and artillery strikes to suppress defending forces. They did not expect to encounter much resistance and fell prey to their own ill-advised plan to capture Kyiv in a daring attack.4Mykhaylo Zabrodskyi et al, 'Preliminary Lessons in Conventional Warfighting from Russia's Invasion of Ukraine: February–July 2022,' Royal United Services Institute for Defence and Security Studies, 30 November 2022 Unable to adequately supply its troops and already sustaining heavy losses in manpower and equipment, on 31 March 2022, Russia began withdrawal from northern Ukraine in a proclaimed gesture of goodwill to facilitate peace talks.5Joe Walsh, '​​Russia Fully Withdraws From Kyiv Area, U.S. Says—Here's What Could Happen Next', Forbes, 6 April 2022 Subsequently, evidence of crimes systematically committed by the Russian forces during occupation – and especially atrocities in Kyiv suburbs  – put an end to negotiations, except those concerning exchanges of prisoners of war and deceased personnel.6Sabine Fischer, 'Peace Talks Between Russia and Ukraine: Mission Impossible,' German Institute for International and Security Affairs, 8 November 2022
In northern Ukraine, ACLED records over 400 violence targeting civilian events since the beginning of the Russian invasion. Most of these events occurred when the invading Russian forces overran the Chernihiv, Kyiv, and Sumy regions in March 2022 (see graph below). While shelling, artillery, and missile attacks accounted for the largest share of events and have remained an ongoing threat, direct attacks on civilian populations – the second most common type of violence – have led to the highest number of reported civilian fatalities. During the Russian advance on northern Ukraine and subsequent occupation, ACLED records more than 700 civilians killed in direct attacks perpetrated by Russian forces. Hundreds of more bodies were discovered in mass graves upon Russian retreat.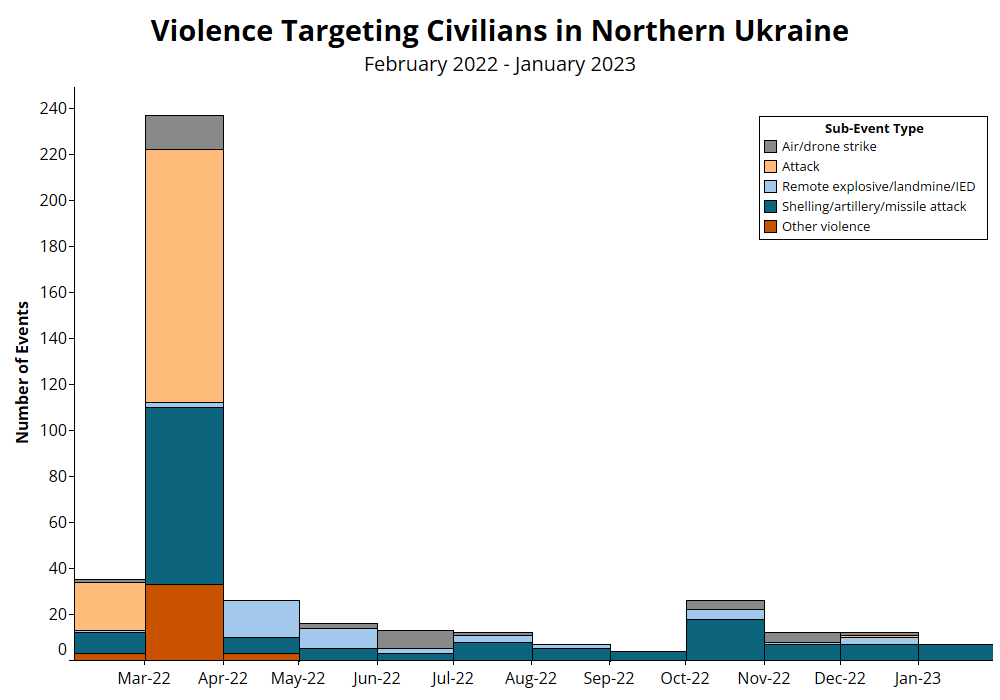 The Kyiv region experienced the heaviest civilian targeting by Russian forces in northern Ukraine, including targeting civilians fleeing affected areas. For instance, on 3 March 2022, Russian forces fired grenade launchers at a column of civilian cars between Motyzhyn and Yasnohorodka, reportedly killing 37 people. Yet the full extent of violence directed toward civilians only emerged following the Russian withdrawal from the region in early April 2022. It was revealed that during the occupation, Russian forces engaged in torture and extrajudicial executions of civilians – the most notable cases being the killing of at least 422 civilians in Bucha and 132 civilians in Makariv. Mass burial sites were discovered upon the retreat of the Russian forces in April from other Kyiv suburbs. There were also multiple reports of sexual violence, including the mass rape of women and girls in Bucha in March 2022. The scale of sexual violence that was directed at civilians in occupied areas is likely severely underreported.7OHCHR, 'Report of the Independent International Commission of Inquiry on Ukraine,' 18 October 2022
Violence against civilians was not limited to Kyiv. The Chernihiv region was also the site of significant violence during the Russian occupation. In the village of Yahidne, south of the regional capital, Russian forces rounded up over 350 civilians on 3 March 2022 in a school basement, reportedly killing eight civilians while 10 other people succumbed to health conditions. Air and artillery strike events, including with cluster munitions, claimed the highest toll, especially in the city of Chernihiv where over 100 civilians were reportedly killed in four isolated mass casualty events in March 2022.
The liberation of northern Ukraine by no means brought about safety for residents. All regions saw incidents related to the accidental detonation of mines and other explosives both during and after the invasion. ACLED records at least 43 such events resulting in at least 34 reported fatalities, with the highest incidence in April and May 2022 in the Kyiv and Chernihiv regions following the Russian withdrawal.
Moreover, artillery, missile, air, and drone strikes continue to present a threat to civilians in northern Ukraine. After a respite in late spring and summer, Russia intensified these strikes in October 2022, ostensibly targeting energy infrastructure to disrupt the Ukrainian army's supply but also consequently inducing extreme hardship on civilians amid cold weather.8Human Rights Watch, 'Ukraine: Russian Attacks on Energy Grid Threaten Civilians,' 6 December 2022
The Kyiv region and the city of Kyiv have been most affected, while the Sumy region has continued to suffer from strikes throughout the year along border areas with Russia.
Heavy Fighting Along the Frontline in Eastern Ukraine 
Eastern Ukraine has been subjected to an unprecedented scale and intensity of violence. Since the beginning of the invasion, three-quarters of all recorded political violence events occurred in eastern Ukraine, of which over two-thirds were attributed to shelling, artillery, and missile attacks. The ongoing intensity of conflict in this region limits analysis of the overall impact on the civilian population. The largest share of the still unknown – but certainly extremely high – number of victims is likely collateral from fighting, and thus impossible to gauge at the time of writing.
Proximity to hostilities, their duration, and experience of occupation should be factored in any assessment of the conflict's toll on civilian populations. For instance, the Dnipropetrovsk region is closer to the center of the country and, therefore, has not seen close combat (see map below) – save for several abortive Russian incursions in the direction of Kryvyi Rih in spring and autumn 2022. Hence the small incidence of violence compared to neighboring regions, concentrated in the area of Nikopol facing Russian-occupied Enerhodar in the Zaporizhia region across the Dnipro river. Relative distance from the frontline is no guarantee of safety, however, as Russia continues to systematically conduct air and missile strikes across the region. The deadliest occurred on 14 January 2023 in the city of Dnipro when a Russian airborne missile hit a residential building in Dnipro, reportedly killing 46 people and wounding 80.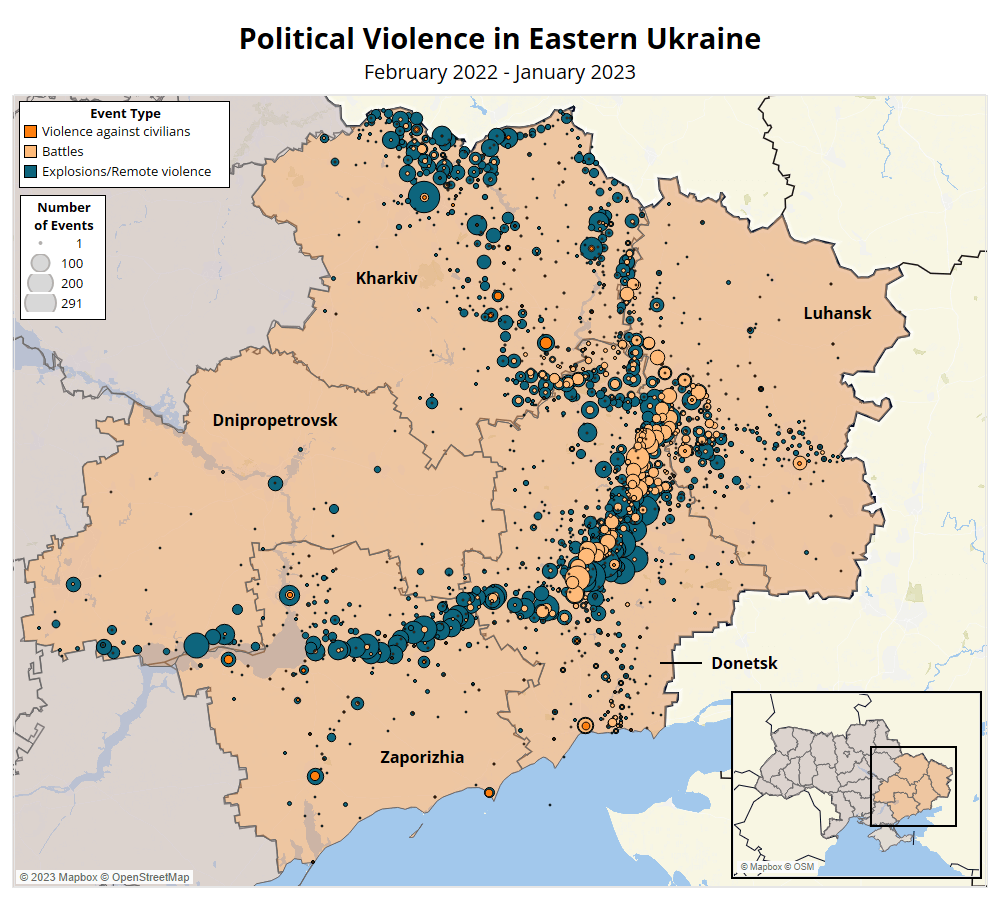 In contrast, other eastern regions of Ukraine have been contested since the start of the invasion (see graph below). The occupied eastern part of the Kharkiv region was used as a bridgehead for Russian offensives in the Luhansk and Donetsk regions. Meanwhile, Kharkiv city, which Russian forces had failed to seize during their initial advance on the region, was subjected to constant shelling and artillery strikes until Ukrainian forces liberated the region. The Luhansk region saw acute violence between late February and mid-summer 2022 when the Russian forces seized towns by leveling them with artillery. A similar tactic was used in spring 2022 to capture the last Ukrainian stronghold in the southern Donetsk region, the city of Mariupol, with disastrous consequences for trapped Ukrainian military and civilians alike. Relatively low and concentrated levels of armed violence in the Zaporizhia region are the by-product of Russia's quick occupation during the early stages of the invasion in late February and early March 2022. Despite relatively low levels of armed violence, the occupation puts remaining civilians under constant and omnipresent threat of violence and mistreatment.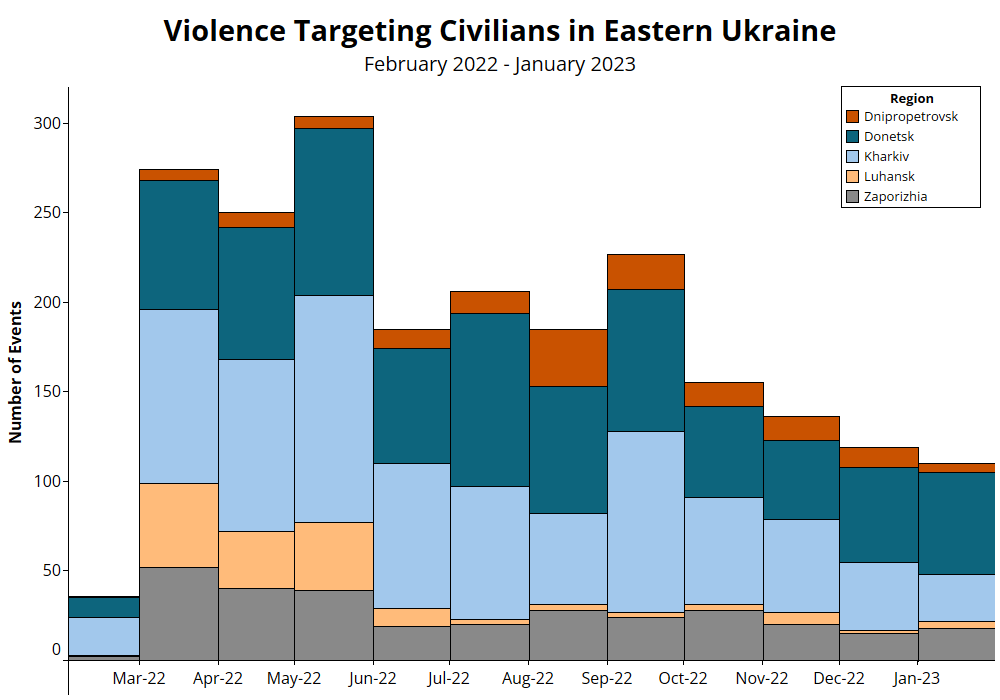 Kharkiv
The Russian invasion of the Kharkiv region was less swift than that of southern Ukraine. Although Russian forces were unable to break Ukrainian defenses around the city of Kharkiv, they had occupied the bulk of the region's northern and eastern parts by April 2022, including Izium – a critical transport hub – in an effort to create a cauldron for the Ukrainian forces defending the Donbas. Ukraine liberated almost the entire region in a surprise counter-offensive in September 2022.
Of over 800 events targeting civilians, about three-quarters constituted artillery, missile, and airstrike events (see map below), which also resulted in the majority of reported civilian fatalities recorded in the region. About a third of these occurred in March 2022 alone. Despite a steady increase in the number of recorded artillery and missile strikes between March and September 2022, the number of reported civilian fatalities resulting from these attacks went down from April to September 2022, and decreased sharply after the liberation of the region in September and October 2022. This may be due to the fact that the majority of strikes targeted the city of Kharkiv, where the underground metro sheltered many remaining residents.9Vitalii Hnidyi, 'Kharkiv metro is a 'city' where hundreds shelter from bombardment,' Reuters, 11 March 2022 The retreat of the Russian forces from the Kharkiv suburbs in May 2022 relieved short-range artillery pressure on the city. Nevertheless, fleeing civilians were targeted during Ukrainian counter-offensives; in one instance, Russian forces reportedly killed over 50 civilians trying to evacuate by car from Kupiansk on 25 September 2022.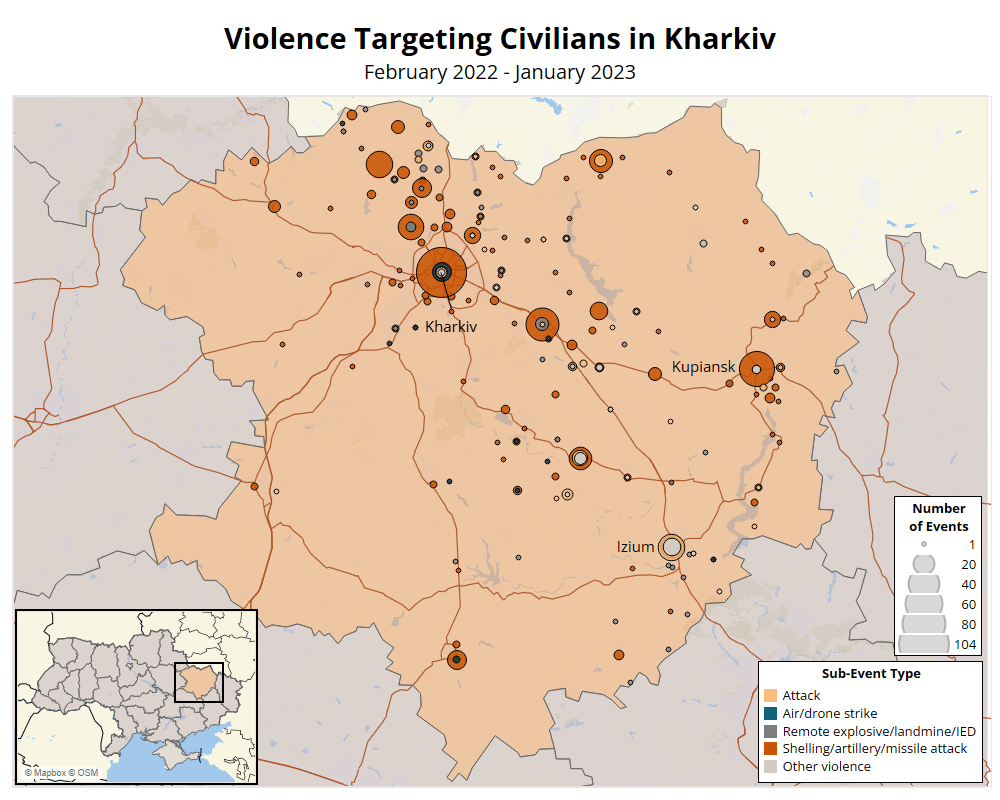 Detonations of mines and other explosive devices steadily grew in number following the region's liberation in autumn, leading to about 70 reported fatalities, but has subsided in winter as civilian movements decreased, especially in rural areas. Hitherto contested parts of the region, including fields and roadsides, will likely still be littered with mines, improvised explosive devices, unexploded ordnance, and other explosive remnants of war. The contamination of the region with banned anti-personnel mines continues to pose a threat to civilians.10Human Rights Watch, 'Ukraine: Banned Landmines Harm Civilians', 31 January 2023
Luhansk
Russian forces invaded the government-controlled northern part of the Luhansk region from the line of contact with the separatist-held areas in the south as well as from Russia proper in the east. They met stiff resistance in the heavily fortified area that had seen years of positional warfare, and stalled near the Rubizhne-Severodonetsk-Lysychansk urban agglomeration until a breakthrough via Kreminna in late April 2022 allowed the seizure of Rubizhne in the north on 12 May 2022. Meanwhile, a simultaneous thrust through Popasna enabled the closing of the cauldron on Severodonetsk and Lysychansk from the south. The Russian forces almost completely captured the region following Ukrainian withdrawal from the towns in late June and early July 2022. Notwithstanding, Ukrainian forces recovered a section of the northwestern part of the region in the area of Kreminna and Svatove during their counter-offensive in the Kharkiv region in September and October 2022. Fighting in the area has persisted throughout autumn and winter.
The sheer scale of artillery, missile, and air attacks inflicted on the region as well as intense close combat brought about immense suffering for the civilians (see map below). While an exact quantification is hard to make, reports of mass casualty events point to the broader extent of the civilian impact. On 11 March 2022, 56 elderly patients reportedly died during the shelling of a nursing home in Kreminna, and at least 60 people were killed in an airstrike on a school used as a shelter in Bilohorivka on 7 May 2022. Over 50 civilians were also killed during the shelling of Severodonetsk in March and May 2022.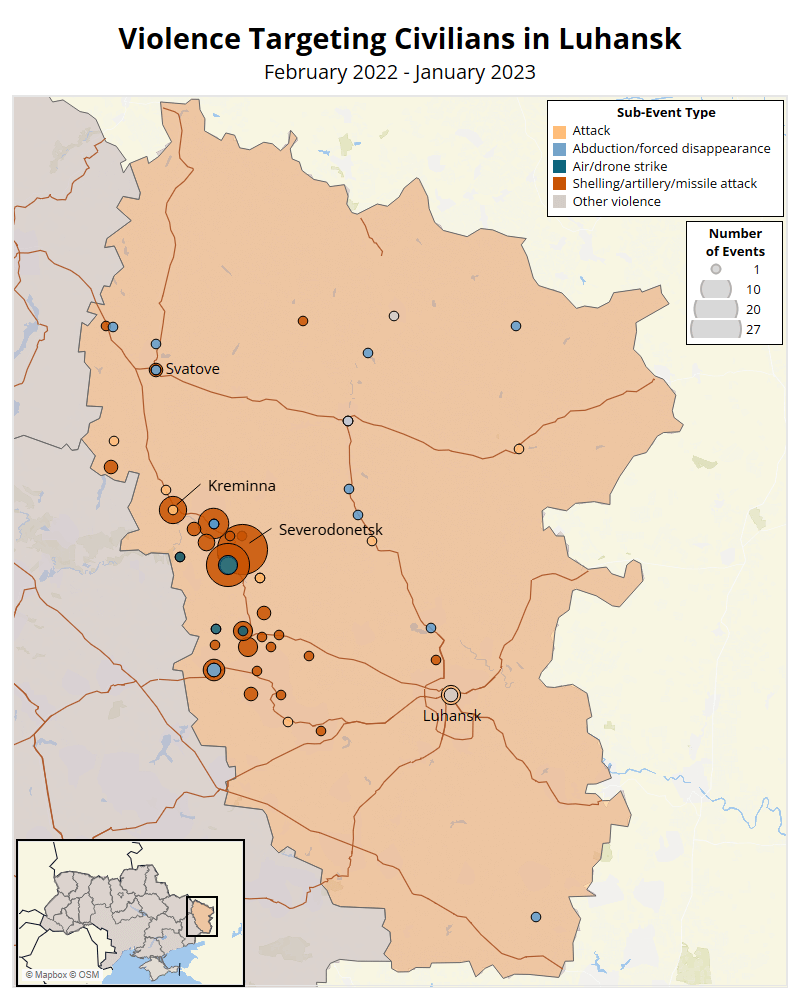 Following the Russian occupation of the region in summer 2022, the number of reports of civilians being targeted went sharply down; though the region has remained highly kinetic, especially since autumn. There have been several reports of abductions and forced disappearances since the occupation began, but ACLED records a relatively low number compared to other regions. This could be explained by the fact that the region saw mass displacement of civilians between March and June 2022.
Donetsk
Ukrainian strongholds west and north of the city of Donetsk blocked a swift Russian advance in the Donetsk region. Russian and Russian-led units nevertheless broke through the Ukrainian defenses along the thin strip of land in southern Donetsk region near the frontline city of Mariupol. The subsequent siege of Mariupol lasted for almost three months until the end of May 2022. The city was subjected to relentless artillery, missile, and airstrikes. Russian northward push from the southern Donetsk region was stopped in the area of Vuhledar, where fighting has persisted for months. So has the impasse near Bakhmut, a town in the northeastern part of the region at a crossroad to the heavily fortified Kramatorsk-Sloviansk urban agglomeration – a critical for Russian forces to attempt a complete occupation of the Donetsk region. In January-February 2023, Russian forces circumvented Bakhmut and captured Soledar, a neighboring settlement to the north, as well as several smaller settlements around Bakhmut. A simultaneous Russian attempt to break the frontline near Vuhledar in the southern Donetsk region failed.
As in the case of the Luhansk region, the relentless bombardment of the Donetsk region since the start of the invasion precludes an accurate assessment of the toll on civilians. The exact numbers of civilians caught in shelling and crossfire will perhaps never be known. ACLED records over 16,000 events in the region, of which over 12,000 were attributed to shelling, artillery, missile, and airstrike events. Only a small portion of these events – about 800 – could be attributed to the direct targeting of civilians (see map below).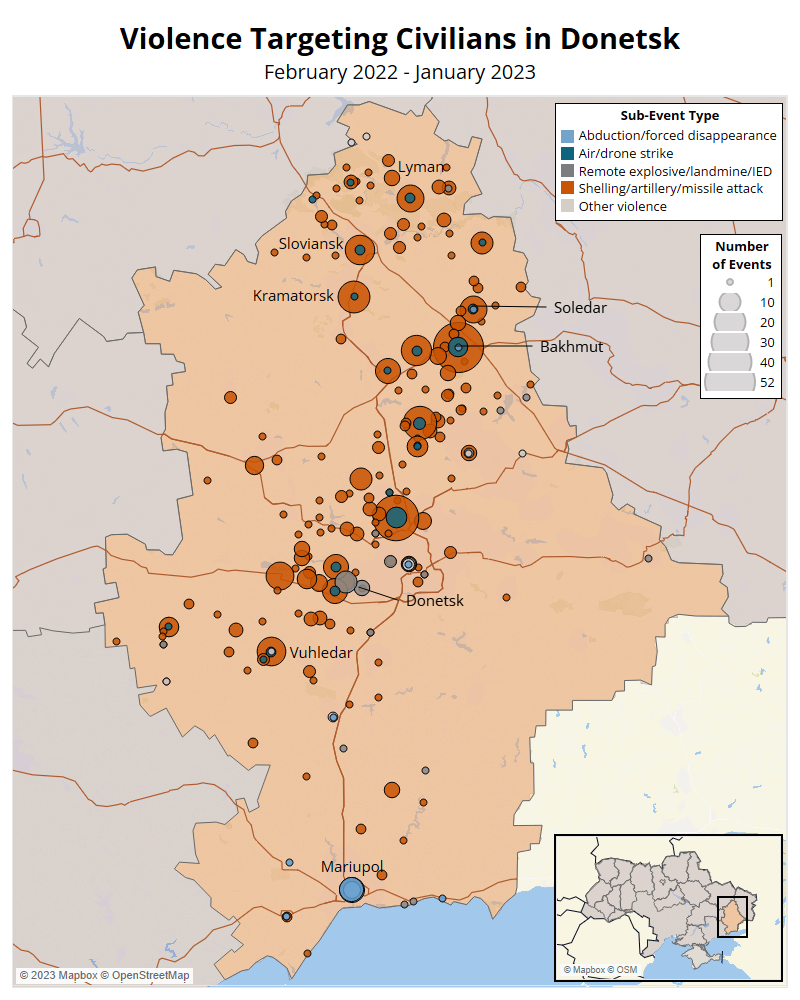 The city of Mariupol was the site of several mass casualty events ahead of the Russian occupation. On 16 March 2022, an airstrike on a theatre reportedly killed an estimated 300 people, while 200 bodies were found under the rubble of an apartment building believed to have been targeted in May 2022. These events, however, offer scant insight into the true death toll in the city, which Russian occupying authorities are painstakingly covering up.11Lori Hinnant et al., 'Russia Scrubs Mariupol's Ukrainian Identity, Builds on Death,' Associated Press, 23 December 2022 The scale of violence inflicted on civilians is likely much greater than estimates, given that negotiations to open evacuation routes from the besieged Mariupol mostly failed. Another indicator is the discovery of mass graves in and around Mariupol via satellite imagery, as well as reports of Russian forces using mobile crematoriums.12Hilary Andersson, 'The agony of not knowing, as Mariupol mass burial sites grow,' BBC, 7 November 2022; Euronews, 'Russia accused of using 'mobile crematoria' in besieged Mariupol,' 4 June 2022 Survivors of the Mariupol siege wishing to leave the destroyed city were required to pass through Russian filtration camps set up in spring 2022 across the region.13Conflict Observatory, 'Mapping the Filtration System in Donetsk Oblast,' 25 August 2022 There, civilians were subjected to intimidation and, at times, torture and abducted as occupiers sought to identify former combatants or those they deemed disloyal. In June 2022, there were reports of forced relocations of children to Russia.14Conflict Observatory, 'Russia's Systematic Program for the Re-education and Adoption of Ukraine's Children,' 14 February 2023
Mass casualty events due to long-range missile and artillery strikes occurred in other parts of the region and on both sides of the line of contact. On 14 March 2022, a missile strike with cluster munitions reportedly killed 23 and wounded 18 in the separatist-held Donetsk city center. On 8 April 2022, another missile strike with cluster munitions at a train station in government-controlled Kramatorsk reportedly killed 57 and injured 114. On 9 July 2022, an artillery strike on Chasiv Yar near Bakhmut reportedly killed 48 people. On 29 July 2022, an explosion at a detention facility holding Ukrainian prisoners of war in separatist-held Olenivka near Donetsk city also reportedly killed more than 50 people and injured 73. Russia claimed that a Ukrainian artillery strike had targeted imprisoned Azov battalion members captured in Mariupol for their alleged cooperation with Russian investigators,15Tim Lister et al., 'Russia claims Ukraine used US arms to kill jailed POWs. Evidence tells a different story,' CNN, 11 August 2022 but it never allowed an independent inspection of the site.16Michelle Nichols and Kanishka Singh, 'U.N. chief disbands fact-finding mission into Ukraine prison attack,' Reuters, 5 January 2023 Both sides appear to have used imprecise weapons to strike targets in remote areas leading to high numbers of civilian casualties.
The number of violence against civilians events remained steadily high throughout the year, with spikes in May and June 2022. In addition to the threat of shelling, residents in separatist-held parts of the region faced increased risk of injury in incidents involving the detonation of mines and other explosives. Between July 2022 and February 2023, there have been at least 50 accidental detonations of anti-personnel mines, mostly occurring in various parts of the city of Donetsk.
Zaporizhia
Russian forces occupied most of the Zaporizhia region in the first weeks of the invasion, capturing the entire shore of the Sea of Azov, including the Ukrainian navy base in Berdiansk, and an area stretching between the Kherson and southern Donetsk regions up to the Dnipro river, including the second-largest town of Melitopol. Ukrainian forces stopped Russian forces in the area of Orikhiv and Huliaipole, preventing a thrust on the regional center of Zaporizhia that is separated from the bulk of the region by the Dnipro river.
Crucially, Russian units captured the largest nuclear power plant in Europe located in Enerhodar and effectively turned it into a military base. Fighting in the area prompted concerns of a deliberate or accidental nuclear incident, as the sides routinely trade accusations of targeting the area. International mediation to create a security zone around the plant has not yet yielded an agreement to mitigate the threat of an environmental disaster.
Although shelling and air and drone strikes have accounted for about half of events targeting civilians in the Zaporizhia region, civilians have also been the subject of direct attacks. These include firing at vehicles carrying evacuating civilians, as well as torture and execution. In areas under Russian occupation, reports of the abduction of local officials, teachers, journalists, Ukrainian army veterans, and civil activists are common (see map below). About half of the 80 known cases occurred between March and May 2022, as Russian forces asserted control over the occupied areas. Similar tactics were used against the employees of the nuclear power plant in Enerhodar. The scale of violence and intimidation may go underreported as long as the larger part of the region is sealed off from the rest of Ukraine and the world.17Ukrainska Pravda, 'Russians close "life corridor" for people in Zaporizhzhia Oblast for two weeks now,' 5 January 2023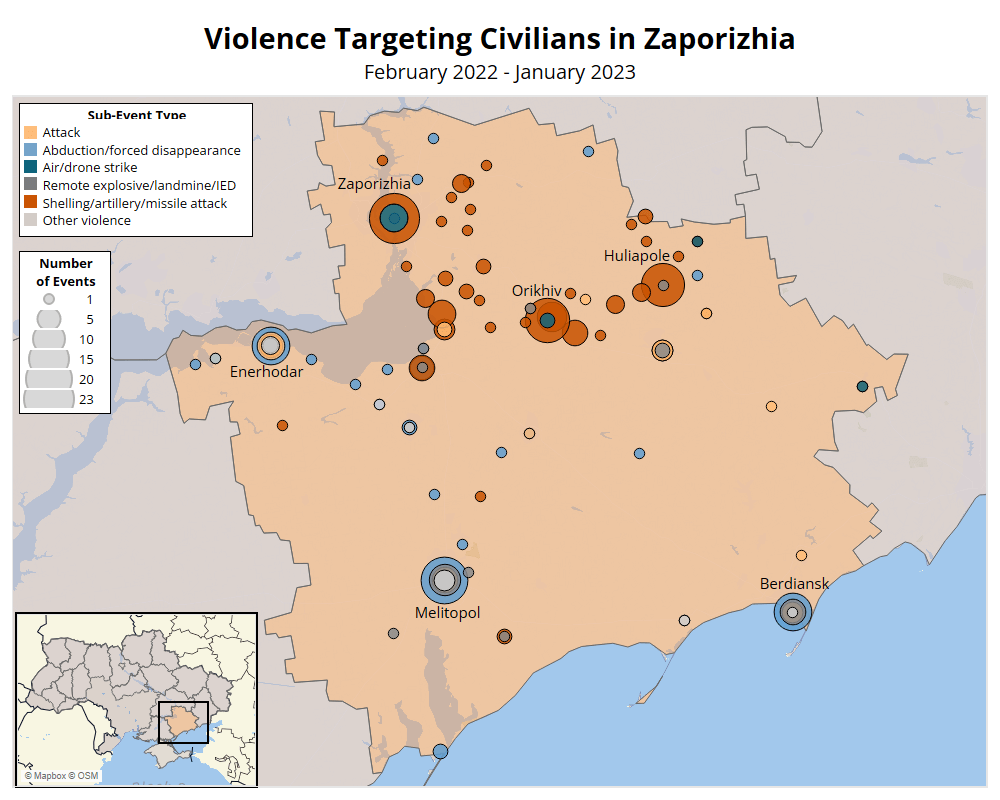 The region, along with the Kherson region, is believed to be one of the most likely targets of upcoming Ukrainian counter-offensives seeking to cut the land bridge between the Russian-occupied southern Donetsk region and Crimea. Fighting along the line of contact has intensified since July 2022. September and October 2022 were the deadliest for civilians, especially in the city of Zaporizhia, where Russian artillery, missile, and air and drone strikes reportedly killed at least 83 civilians between 30 September and 14 October 2022.
Explosive Threats for Civilians in Southern Ukraine
Russian forces invading from the annexed Crimean peninsula had partial success in southern Ukraine. They quickly overran the Kherson region and seized its eponymous main city on 2 March 2022. However, Ukrainian forces repelled the Russian advance into the neighboring Mykolaiv region, thus denying an axis in support of an offensive on the Odesa region further west. Attempts to conduct landings from the Black Sea also proved abortive. Russia effectively imposed a maritime blockade on Ukraine, however, later allowing only supervised grain exports under the UN and Turkey-brokered Black Sea Initiative to avert famine in developing nations.
Amid a lack of success in other sections of the frontline, supplying stalling troops across the Dnipro river, which cuts the Kherson region into two unequal parts, proved daunting. The provision of Western-made artillery enabled Ukraine's precision strikes on bridges, Russian ammunition and fuel depots, as well as concentrations of Russian personnel. In early November 2022, Russia belatedly but orderly withdrew its troops and equipment from the western bank of the Dnipro river.
The Kherson and Mykolaiv regions have been most affected by violence in southern Ukraine, with shelling and artillery strikes accounting for most events and resulting fatalities. Nevertheless, civilians' experiences in the two regions differed significantly as the Kherson region had quickly succumbed to invading Russian forces while the Mykolaiv region had been mostly spared occupation. Thus, the latter endured near-constant air and artillery strikes, primarily targeting the city of Mykolaiv. In one instance, on 29 March 2022, 36 civilians were reportedly killed in an airstrike on the Mykolaiv regional administration.  In addition, the number of mine-related incidents has grown in the de-occupied parts of the Kherson region since November 2022.
Meanwhile, the most frequent types of violence targeting civilians in the Kherson region other than shelling were abductions and forced disappearances, as well as torture and extrajudicial killings (see map below). Also observed in the neighboring Zaporizhia region, these events primarily targeted acting and former local officials, military or police personnel, journalists, civil activists, and those suspected of being Ukrainian partisans or simply holding pro-Ukrainian views. For instance, in late June 2022, Russian forces abducted about 50 Crimean Tatars from three settlements in the occupied Kherson region. Russian withdrawal from the western bank of the Dnipro river in November 2022 alleviated pressure on the Mykolaiv region, but led to a significant increase in the number of Russian strikes on the city of Kherson.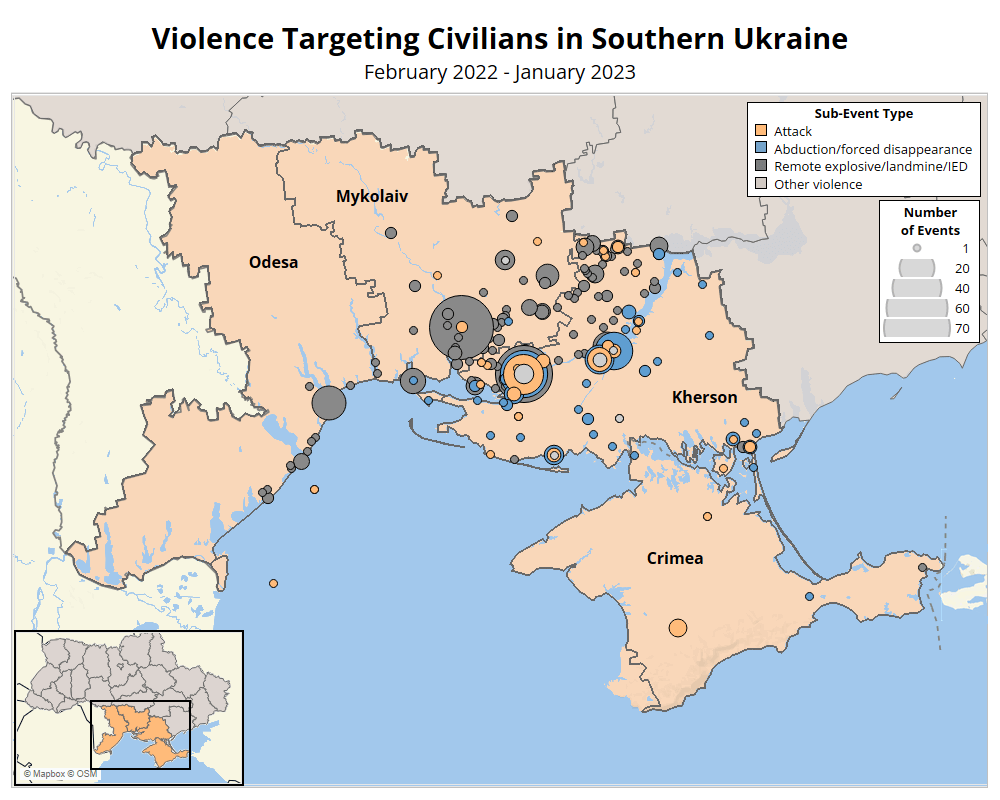 The Odesa region did not see major ground fighting, but its proximity to the Black Sea rendered it vulnerable to missile, air, and drone strikes. However, the risk was somewhat reduced as Ukrainian long-range strikes forced the departure of Russian forces from Zmiinyi Island off the coasts of Romania and Ukraine on 30 June 2022. About half of over 40 resulting reported fatalities occurred in two incidents: a missile strike killed eight and injured 10 civilians in the city of Odesa on 23 April 2022, and an airstrike on residential areas of Serhiivka, a resort settlement, killed at least 21 on 1 July 2022. The laying of mines on the shore and seabed to discourage Russian landing attempts also led to several accidental detonations of mines and explosive devices by civilians in summer. There have been about 10 missile, air, and drone strikes on the region's energy infrastructure since mid-October 2022, leading to frequent interruptions of electricity and heating supply, especially in the city of Odesa.
Constant Menace from the Skies in Central and Western Ukraine
Central and western Ukraine have been spared acute violence seen elsewhere in the country. However, over 150 Russian missile, air, and drone strike events have frequently targeted the 12 regions (see map below), posing a considerable threat to civilian safety. About a fifth of these strikes hit civilian targets, resulting in over 80 fatalities. The majority of these reported fatalities occurred in two isolated events: a missile strike at a shopping mall in Kremenchuk in the Poltava region killed 20 people and injured 50 others on 27 June 2022; and a missile strike at a concert hall in the city of Vinnytsia killed 25 people and injured 115 on 14 July 2022.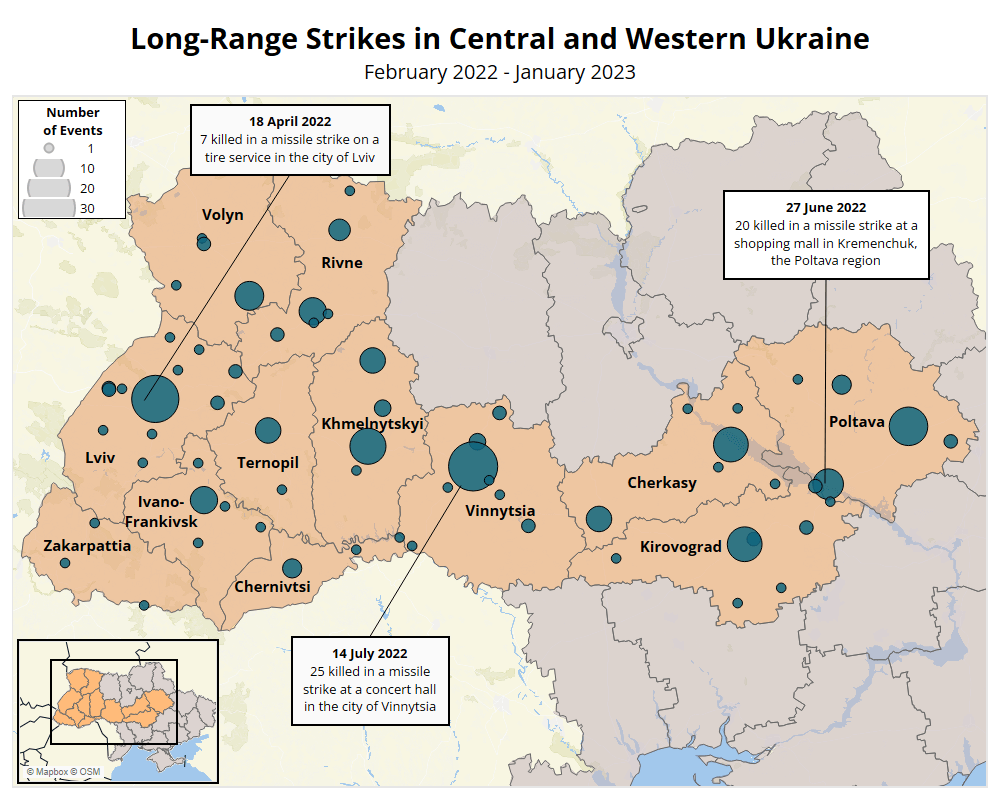 The systematic targeting of energy infrastructure in autumn and winter led to a lesser impact on civilians' physical security. Yet, the debris from intercepted missiles and suicide drones still posed a risk of death and injury, in addition to the hardship inflicted due to power outages. For instance, a Russian missile strike on a power distribution facility in the Lviv region on 23 November 2022 caused a blackout for 1.5 million people.18Olena Roschchina, 'Russia Hits Substation in Lviv Oblast, Causing Emergency Power Outage,' 23 November 2022 There have been at least 50 Russian missile, air, or drone strikes on energy infrastructure deep in Ukraine's hinterland, with the Vinnytsia region among the most affected.
Conclusion 
The war in Ukraine upended the normal course of life in Ukraine and beyond. Ukrainian efforts on the battlefield and in the country's hinterlands have defied Russian and many others' expectations of a quick subjugation. The same vitality may be creating inflated expectations of Ukraine liberating all its territories in the short term.
However, one can be certain that the Russian aggression against Ukraine subjected millions of Ukrainians to violence and hardship. Thousands of civilians are believed to have been killed or injured, though exact figures are hard to come by while swathes of Ukraine are still under Russian occupation. Tight informational controls in those areas do not allow for a clear understanding of the treatment of civilians. However, the discovery of mass graves in northern Ukraine and the Kharkiv region indicates that torture, rape, and summary executions may have also occurred in areas currently beyond the reach of independent media and international forensic experts. Likewise, the experience of people allegedly abducted or disappeared in occupied southern and southeastern Ukraine – many of them former and current local administrators and cases of targeting of Russian-appointed officials by suspected Ukrainian partisans active in occupied areas – is telling and warrants further exploration.
Revelations of atrocities are not the sole side effect of liberation. Contamination of formerly occupied areas with mines and explosives poses and will continue to pose a serious risk to civilians returning to their homes and livelihoods, especially in rural areas. It will require one of the greatest demining efforts in human history and is likely to kill and maim civilians in the coming years, even if the war ended immediately.
The direct impact of the war on civilians extends far beyond those killed or injured. One year into the war, Ukraine's economy has contracted by about a third and requires continuous external support.19IMF, 'How Ukraine is Managing a War Economy,' 22 December 2022 Over five million Ukrainians are internally displaced.20IOM, 'Ukraine — Internal Displacement Report — General Population Survey Round 12 (16 – 23 January 2023),' 23 January 2023 About eight million people have been forced to seek refuge outside the country, of whom close to three million have found themselves in Russia,21UNHCR, 'Ukraine Refugee Situation,' last accessed 21 February 2023 many having been 'evacuated' by the Russian forces against their will, including thousands of children.
Those remaining in Ukraine face ongoing interruptions to basic utilities amid cold weather as Russia continues striking civilian infrastructure. They are also living under constant threat of being caught up in cross-border strikes, as in the Sumy and Kharkiv regions, and shelling in much of eastern and southern Ukraine. Finally, Russia's ongoing occupation of the Zaporizhia nuclear power plant and recurring threats to deploy nuclear weapons pose a continuous risk to life and the environment  – not only in Ukraine, but also in the region at large.
Visuals in this report were produced by Ana Marco.