Situation Update | March 2023
Somalia: Conflict Expands to Galmudug State
Somalia at a Glance: 1 January-17 March 2023
KEY TRENDS
ACLED records over 630 political violence events and more than 2,200 reported fatalities in Somalia from 1 January to 17 March 2023. Most of the violence centered in southern and central Somalia, where government security forces have been conducting a military operation against al-Shabaab since August 2022.

Mudug region had the highest number of reported fatalities, with nearly 520. Hiiraan, Middle Shabelle, and Lower Shabelle regions followed, with over 350, nearly 300, and over 230 reported fatalities, respectively. Armed clashes between Somali security forces and al-Shabaab accounted for 57% of total fatalities.

Battles were the most common event type recorded by ACLED, with over 350 events, followed by explosions and remote violence, with nearly 160 events. Remote violence by al-Shabaab constituted 20% of all recorded political violence events during this period.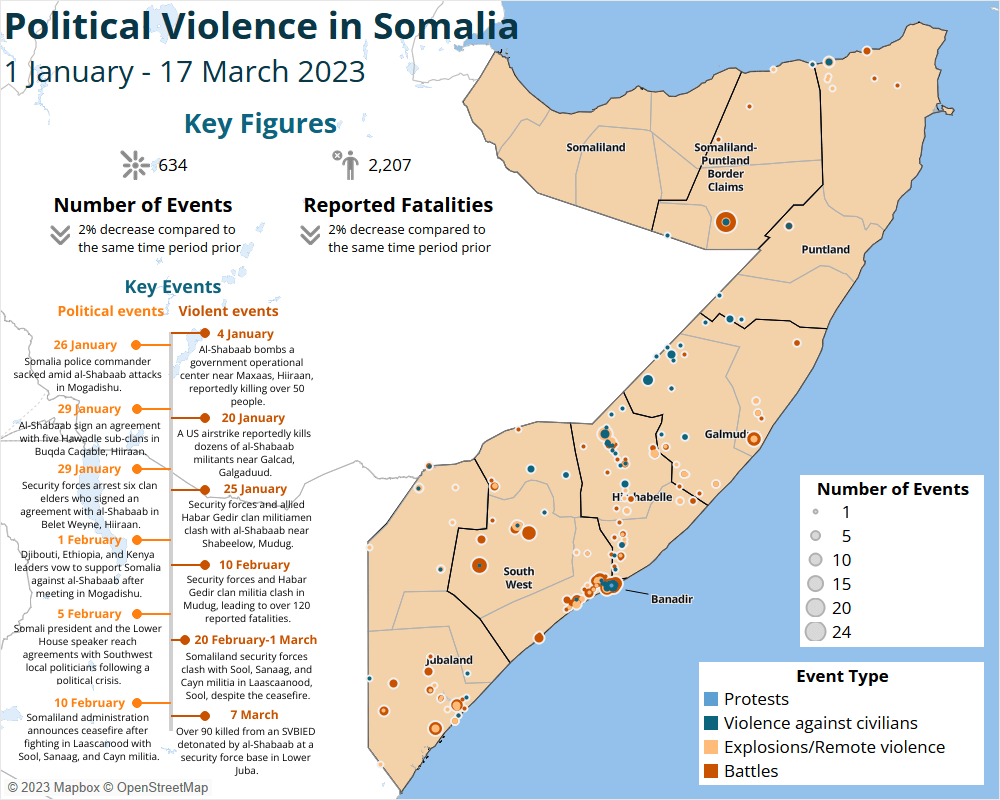 Counter-Insurgency Operations Expand to Galmudug State
In early 2023, the federal government-led counter-insurgency operations against al-Shabaab expanded to new and remote areas, deviating from Hirshabelle state – where they had focused since August 2022. The expanded military focus led to the capture of al-Shabaab strongholds in Mudug and Galgaduud regions of Galmudug state. However, the widened theater of operations into Galmudug state risks overstretching military capacity, as security forces decrease troop counts in Hirshabelle to deploy fighters into Galmudug. With fewer security forces, the new bases established in recently liberated villages in Belet Weyne and Bulo Burto districts in Hiiraan region and Balcad in Middle Shabelle region, Hirshabelle state, may become vulnerable targets for al-Shabaab attacks.
In Mudug region in central Somalia, ACLED records increased political violence activity in early 2023 compared to the same time period prior in 2022. This increase is driven by fighting between al-Shabaab and security forces as government operations spread to Galmudug state. Although security forces increased their operations against al-Shabaab militants in central Somalia, attacks from al-Shabaab militants continued. This report discusses security forces operations in Galmudug that began in January 2023 despite al-Shabaab's continued activity in Hirshabelle, and how this has allowed al-Shabaab's movement between the two states. Security forces are focusing on their operations in Galmudug, while al-Shabaab is focusing on retaking its lost areas in Hirshabelle. Notwithstanding, security forces have recently claimed victories in Galmudug. However, al-Shabaab's continuing activity suggests the threat from al-Shabaab persists across the country.
Offensive Operations Target al-Shabaab Strongholds in Galmudug State
Since January 2023, Mudug and Galgaduud regions in Galmudug state have experienced an increase in the number of political violence events and have more than doubled in reported fatalities compared to the same time period prior in 2022 (see map below). In Mudug, United States drone strikes and Habar Gedir clan militias' ground operations supported security forces in clashes with al-Shabaab militants on 23 January. As a result of these counter-insurgency efforts, the Somali government claimed control of Xarardheere town, an al-Shabaab stronghold in central Somalia. Five soldiers and more than 35 militants were reportedly killed in the clashes, and two more militants were reportedly killed during an airstrike by US forces near Xarardheere. Days earlier, security forces had taken control of Galcad village in Ceel Dheer district, Galgaduud, on 16 January after al-Shabaab withdrew at the end of 2022. Somali Defense Minister Adbulkadir Mohamed Nur characterized the recapture of these strategic towns as "a big day for the Somali people" and "a victory for the Somalis."1Harun Maruf and Hussein Hassan Dhaqane, 'Somali Forces Capture Two Towns from Militants,' Voice of America, 16 January 2023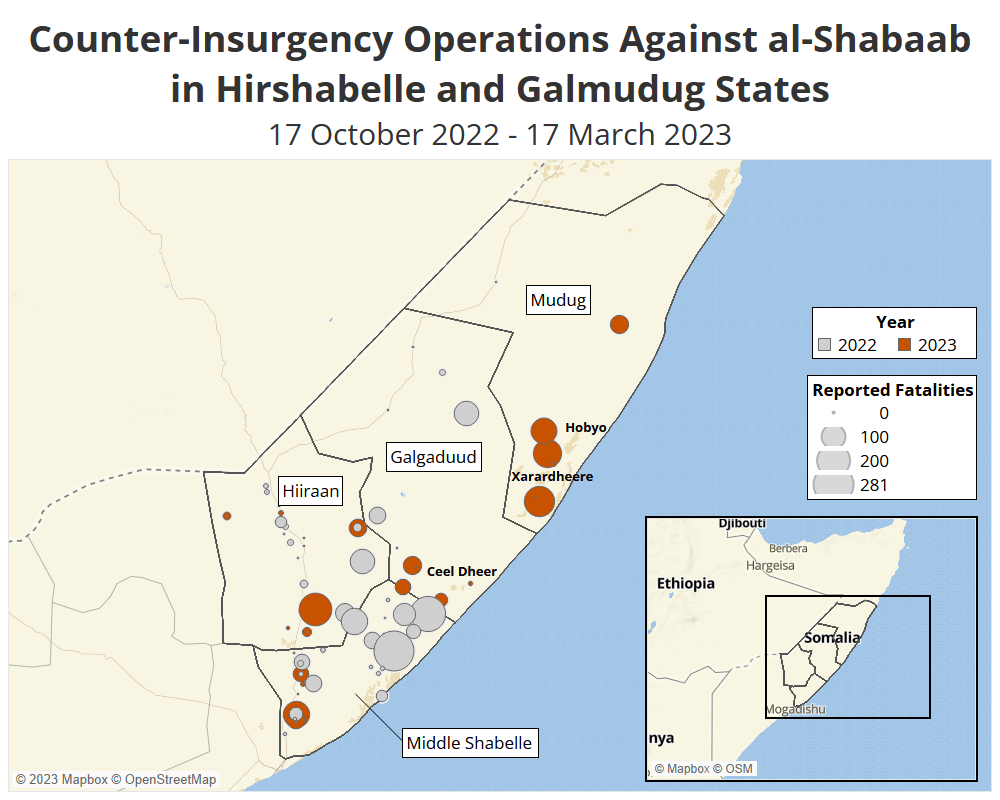 Following the recapture of Galcad and Xarardheere, counter-insurgency operations continued targeting al-Shabaab hideout locations and strongholds. In particular, clashes were recorded in Xarardheere and Hobyo districts of Mudug region where al-Shabaab controlled several remote villages around Caad and Baad Weyne towns. Security forces, with the support of Habar Gedir clan militias and US forces, launched the offensive. US forces conducted two airstrikes against al-Shabaab within seven days, reportedly killing 12 militants near Baad Weyne town. On 21 February, the US airstrikes supported ground advances near the al-Shabaab-controlled Shabeelow village in Hobyo district, Mudug. The fighting resulted in dozens of reported fatalities from both sides. Moreover, government security forces defended Faarax Adan village, a remote village near the newly recaptured Xarardheere town, reportedly killing 30 al-Shabaab militants.
Meanwhile, al-Shabaab's change of tactics – having adopted night combat and increased use of IEDs, including suicide vehicle-borne IEDs (SVBIED) and vehicle-borne IEDs – heightened the violence in Galgaduud region. Al-Shabaab militants launched a coordinated attack on Galcad village base in Ceel Dheere district days after peacefully vacating the village. The episode started with an under-vehicle IED (UVIED) followed by heavy exchange of gunfire from both sides. At least 25 soldiers were reportedly killed, including Deputy Commander of Danab/Bancroft Major Hassan Mohamed Osman Tuure.2Hiiraan Online, 'Danab deputy commander in Al Shabaab attack in Gal'ad district,' 20 January 2023 The next day al-Shabaab conducted another attack near Galcad village, when it detonated a remote-controlled IED it planted targeting a government security forces convoy, reportedly killing three soldiers. On 8 March, al-Shabaab attempted the same tactic again in Ceel Dheer village, detonating an IED that damaged a government security force vehicle and injured one soldier.
Decreased Security Operations in the Embattled Hirshabelle State
While activity by government-led security forces expanded in Galmudug state, it significantly reduced in Middle Shabelle and Hiiraan regions in Hirshabelle state in early 2023 compared to the same period prior in 2022. Meanwhile, the threat from al-Shabaab persisted, as militants launched several deadly attacks against security force bases and continued to clash over contested control of strategic villages along supply routes in Middle Shabelle. In Adan Yabaal district, al-Shabaab ran over the security force base in Hilowle Gaab village on 6 January and took control of the base. Al-Shabaab claimed to have killed 31 soldiers in the fighting.3Mohamed Dhaysane, '7 Somali Troops Killed in Attack on Army Camp,' Voice of America, 6 January 2023 In Balcad district, al-Shabaab militants clashed with security forces and Abgal clan militias during search operations along the government-controlled main supply routes that connect the district to Mogadishu. 
Additionally, ACLED records a change in conflict dynamics in Hiiraan and Middle Shabelle regions from January to 17 March 2023 relative to the same period prior, even as political violence decreased overall. While armed interactions between the two sides experienced a 51% decrease in Hirshabelle, contributing to a decrease in political violence overall, explosions and remote violence already nearly doubled as a proportion of political violence events between the two sides, from 24% to 45% (see graph below). This increase is driven in great part by al-Shabaab activity, such that in the first two weeks of March 2023, explosions and remote violence perpetrated by al-Shabaab amounted to nearly 60% of all political violence events in Hiiraan and Middle Shabelle regions. Notably, grenade attacks by al-Shabaab already increased sixfold across both regions from January to 17 March 2023 as compared to the last period from 17 October through December 2022, while the use of IEDs and remote explosives increased by 120% in Hiiraan during the same period. Al-Shabaab detonated three UVIEDs during an attack at a base in Xawaadleey village in Middle Shabelle on 17 January, followed by heavy gunfire exchanges that reportedly killed an estimated 24 soldiers and 21 militants. A senior military commander, Colonel Abshir Mohamud Mohamed Shataqey, was among those reportedly killed. Earlier in January, security forces and Abgal clan militiamen targeted known al-Shabaab hideout locations in the vicinity of Xawaadleey village. The operation, which involved an airstrike, reportedly killed 61 militants.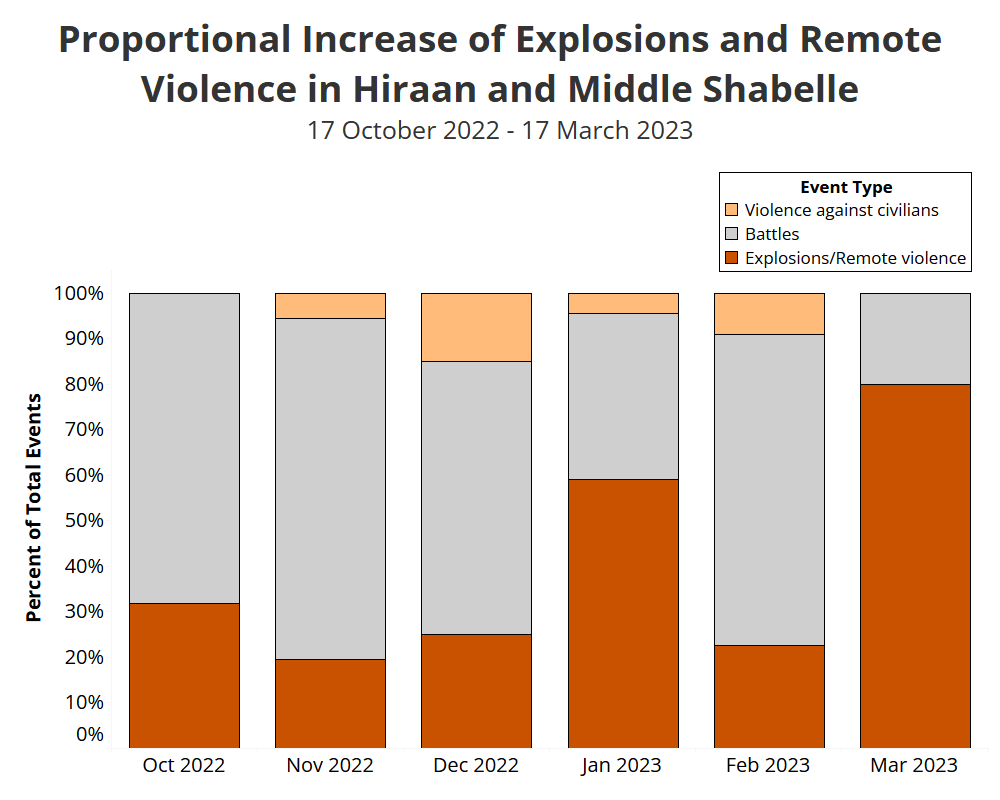 Continuing their tactic of using explosives, al-Shabaab militants targeted government institutions in Hiiraan region more than any other region in Somalia. On 4 January, two al-Shabaab SVBIEDs targeted government operational and administration centers in Maxaas town, reportedly killing 55 people. Ten days later, coordinated attacks on 14 January in Bulo Burto and Jalalaqsi town administration centers reportedly killed a total of 19 people. Separately, a senior investigation official, Jamaal Ahmed Jaamac, was reportedly killed on 16 January when two al-Shabaab SVBIEDs targeted government officials in Halgan town.
Al-Shabaab's Continuing Threat
With the expansion of counter-insurgency operations into Galmudug state, al-Shabaab militants have continued targeting civilians and government-allied clan figures in Banadir region. For instance, on 28 January, al-Shabaab claimed responsibility for the assassination of Galmudug State Minister of Transport and Aviation Farhiya Abdi Waasuge in Mogadishu. The minister was from the Habar Gedir-Saruur sub-clan involved in the operation in Mudug region. Militants also fatally attacked the care home for members of the Hawadle Macawiisley clan militia who have been injured in offensive operations in Hiiraan region in recent months in Mogadishu. 
Further, on 23 February, al-Shabaab militants launched a 'special operation' targeting business owners, narcotics dealers, and Ciyaal Wero (local youths), who are known to rob civilians in Mogadishu,4Somali Public Agenda, 'The Rise of Youth Gangs (Ciyaal Weero) in Mogadishu,' 27 October 2022 likely as a tactic to gain local support. Since the start of the special operation, al-Shabaab has reportedly killed at least 29 civilians accused of being drug dealers and Ciyaal Wero in Mogadishu.
Security forces are still facing threats from al-Shabaab's violent attacks, especially in urban towns in Banadir and Hiiraan regions. These attacks highlight the need to revisit the operational plan of the ongoing offensive to match the tactical changes deployed by al-Shabaab, including the militants profiling clans and targeting those that support the government. This is particularly important as the government has recently announced its plan to launch the second phase of its operations against al-Shabaab in Jubaland and Southwest states.5Garowe Online, 'Somalia to start second phase of Al-Shabaab crackdown during Ramadan,' 20 March 2023 The expansion of government operations is a positive indication of the security forces' fight against al-Shabaab. At the same time, it highlights al-Shabaab movements and their strategy to shift focus towards regions with less security force activity.
Update, 26 March 2023: This report has been updated to clarify that the discussion of recently liberated villages in Belet Weyne and Bulo Burto referred to locations within the districts (ADMIN2) of Belet Weyne and Bulo Burto, not the cities of Belet Weyne and Bulo Burto.